A few days ago, Manchester United announced the signing of Cristiano Ronaldo from Italian giants Juventus. Since then, Ronaldo comeback to United is trending everywhere. The Instagram post by United, announcing Ronaldo's comeback, has attracted huge amount of likes and are still increasing. It has become the most-liked post on the popular social media platform by a sports team. With all this happening, it has been cleared that Cristiano Ronaldo is the biggest brand name in the history of football. When anything so big happens then many rumors also arise with it. One such rumor which has been going on the internet these days is regarding Queen Elizabeth and Cristiano Ronaldo. A recent claim is being circulated on social media that Queen Elizabeth II has demanded the first signed Manchester United jersey of Cristiano Ronaldo. Did Queen Elizabeth actually request for Cristiano Ronaldo's jersey : We will tell you the truth in this article.
View this post on Instagram
Cristiano Ronaldo and Queen Elizabeth II : What is the actual matter?
On Friday August 27, Manchester United made the official announcement of Cristiano Ronaldo returning to the club in the ongoing Premier League season. Cristiano Ronaldo's transfer to Manchester United after 12 years has taken the internet by a storm.
On September 1, after Cristiano Ronaldo's comeback announcement, a claim started circulating on social media which was as follows:
"Queen Elizabeth orders 80 jerseys for the Royal Court, and has personally requested Manchester United to reserve the first jersey signed by the player."
This claim was first posted by an online news platform, Sports Innovation Society. They posted this claim involving Queen Elizabeth and Cristiano Ronaldo on their official Twitter Account.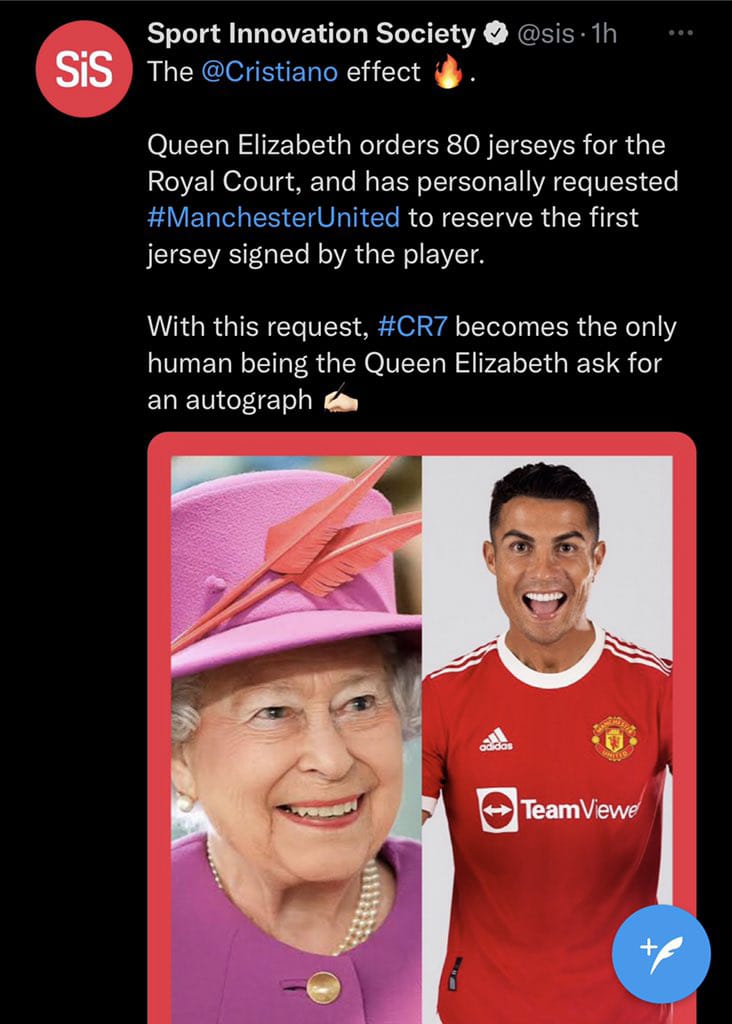 For your information, this claim is totally false. There has been no such official confirmation from any trusted source. The Sports Innovation Society also deleted their tweet after some time and issued public apology.
We could not confirm the veracity of the note from the Queen and CR7 so we decided to delete the tweet. Apologies

— Sport Innovation Society (@sis) September 1, 2021
However, it was too late. A lot of media platforms and fans accounts picked up on the fake story and made it viral on social media.