The year is about to end and Manchester United are looking forward to prepare themselves for the start of 2022. It is obvious that 2021 did not go as planned. This year has been one to forget for the Red Devils. The main highlight of the year was that coach Ole Gunnar Solskjaer lost his job and Ralf Rangnick came in on an interim basis. Popularly known as  'The Professor', the 63-year-old German tactician is known for his principles. The fans are expecting from him to transform the Manchester United squad and bring the club to its original levels. Rangnick will approach towards this by targeting some big-name players. Apart from new signings, some players will also leave the club. While multiple positions will need an upgrading according to the playing style of Rangnick. In this article, we will take a look at how Manchester United's XI could look by the end of 2022.
Manchester United's XI by the end of 2022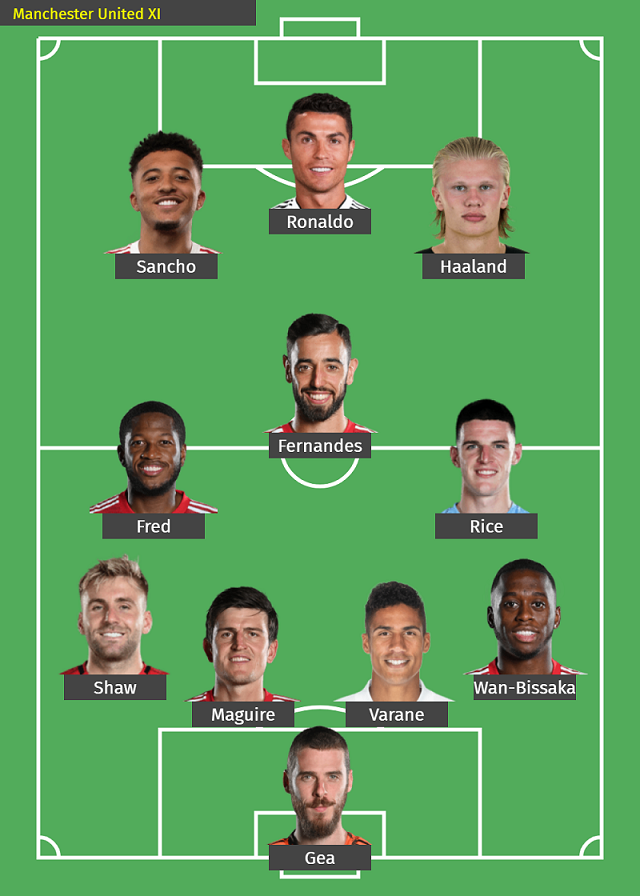 Goalkeeper: De Gea
In the beginning of the year, it was looking like David De Gea was finished at United. The Spanish Goalkeeper lost his place to Dean Henderson towards the end of last season. His appearance in the Europa League final was a nightmare for the whole team. However, De Gea has overcome that bad phase and has cut out the errors in his game. The 31-year-old has already delivered some memorable performances in Champions League football this season. So it is quite clear that he will feature in the playing XI of Manchester United 2022.
Defence: Wan-Bissaka, Raphael Varane, Harry Maguire, Luke Shaw
It has been quite a difficult year for Aaron Wan-Bissaka but he surely a better option than Portuguese full back Diogo Dalot.
The same is the case with Luke Shaw. The English left back has been facing a competition by Alex Telles. Shaw has been replaced by Alex Telles for recent matches due to injury which has given latter more opportunities to prove his worth. However, Shaw has the capacity that made him first-choice for club and country.
Raphael Varane was brought from Real Madrid and he is here to stay. Varane and Harry Maguire are likely to still be the club's first-choice centre-back duo, at least for another year.
Midfield: Declan Rice, Fred, Bruno Fernandes
This season, Scott McTominay and Fred have started most matches in the midfield. However, both could find themselves on the bench in the coming months. There is a high probability that Paul Pogba will leave at the end of the campaign. The Frenchman has entered the final year of his contract and is yet to commit to an extension. Therefore there will be a need to sign a defensive midfielder. The Red Devils are interested in signing Declan Rice. However, it will not be easy to get him because West Ham will be wanting £100million for their asset amid his sensational form.
Bruno Fernandes is a permanent name in the starting lineup under any manager.
Forwards: Jadon Sancho, Cristiano Ronaldo, Erling Haaland
Manchester United are still keen to sign the Borussia Dortmund star. He'd be a good asset for the club. Haaland and Sancho on each wing can do wonders at Old Trafford.
To accommodate both Haaland and Sancho in the squad, the playing time of Cristiano Ronaldo will definitely decrease. Marcus Rashford and Mason Greenwood will either be on bench or at loan if Haaland comes.
Jadon Sancho struggled at the beginning but he should be better in a year's time.
It will be quite difficult to manage Ronaldo in the squad but it is also true that he will not leave in just one season.