The ICC T20 World Cup 2021 is just a couple of months away. It was supposed to held last year in India but due to the pandemic it has been postponed. Now it will take play in the UAE and Oman and the cricket fans are already excited to see the tournament after five years. Although, it will be held in UAE and Oman but BCCI are still the organizers of the World Cup. Cricket fans across the globe are patiently waiting for the ICC T20 World Cup 2021 to start. West Indies are the current defending champions of the tournament from the 2016 edition and they are also among the favorites to win this edition of tournament.
The T20 World cup was to be organized by the ICC from 18 October to 15 November 2020. Now the dates have been revised. India were the host for T20 World Cup 2020, but there has been a possibility that third wave of Covid might come in India in this period. Therefore, the ICC has decided in its meeting that the T20 World Cup 2021 will be started in UAE on 17 October 2021. The ICC T20 World Cup 2021 Schedule has been announced by ICC.
ICC T20 World Cup 2021 Groups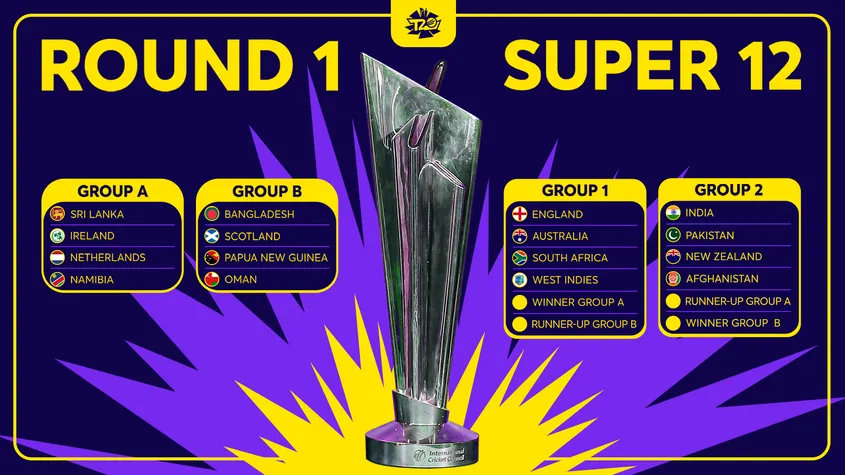 Round 1
Group A: Sri Lanka, Ireland, the Netherlands and Namibia
Group B: Bangladesh, Scotland, Papua New Guinea and Oman
Super 12s
Group 1: England, Australia, South Africa, West Indies, A1 and B2.
Group 2: India, Pakistan, New Zealand, Afghanistan, A2 and B1.
ICC T20 World Cup 2021 Schedule
| | | | | |
| --- | --- | --- | --- | --- |
| 1 | 17-10-21 | Sri Lanka vs Ireland | 1st | Group A |
| 2 | 18-10-21 | Papua New Guinea vs Oman | 1st | Group A |
| 3 | 19-10-21 | Bangladesh vs Namibia | 1st | Group B |
| 4 | 19-10-21 | Netherlands vs Scotland | 1st | Group B |
| 5 | 20-10-21 | Ireland vs Oman | 1st | Group A |
| 6 | 20-10-21 | Sri Lanka vs Papua New Guinea | 1st | Group A |
| 7 | 21-10-21 | Namibia vs Scotland | 1st | Group B |
| 8 | 21-10-21 | Bangladesh vs Netherlands | 1st | Group B |
| 9 | 22-10-21 | Papua New Guinea vs Ireland | 1st | Group A |
| 10 | 22-10-21 | Sri Lanka vs Oman | 1st | Group A |
| 11 | 23-10-21 | Netherlands vs Namibia | 1st | Group B |
| 12 | 23-10-21 | Bangladesh vs Scotland | 1st | Group B |
| 13 | 24-10-21 | Australia vs Pakistan | Super 12 | Group 1 |
| 14 | 24-10-21 | India vs South Africa | Super 12 | Group 2 |
| 15 | 25-10-21 | TBC vs TBC | Super 12 | Group 1 |
| 16 | 25-10-21 | New Zealand vs West Indies | Super 12 | Group 1 |
| 17 | 26-10-21 | Afghanistan vs TBC | Super 12 | Group 2 |
| 18 | 26-10-21 | England vs TBC | Super 12 | Group 2 |
| 19 | 27-10-21 | New Zealand vs TBC | Super 12 | Group 1 |
| 20 | 28-10-21 | Afghanistan vs TBC | Super 12 | Group 2 |
| 21 | 28-10-21 | Australia vs West Indies | Super 12 | Group 1 |
| 22 | 29-10-21 | Pakistan vs TBC | Super 12 | Group 1 |
| 23 | 29-10-21 | India vs TBC | Super 12 | Group 2 |
| 24 | 30-10-21 | England vs South Africa | Super 12 | Group 2 |
| 25 | 30-10-21 | West Indies vs TBC | Super 12 | Group 1 |
| 26 | 31-10-21 | New Zealand vs Pakistan | Super 12 | Group 1 |
| 27 | 31-10-21 | Australia vs TBC | Super 12 | Group 1 |
| 28 | 01-11-21 | Afghanistan vs South Africa | Super 12 | Group 2 |
| 29 | 01-11-21 | India vs England | Super 12 | Group 2 |
| 30 | 02-11-21 | TBC vs TBC | Super 12 | Group 2 |
| 31 | 02-11-21 | New Zealand vs TBC | Super 12 | Group 1 |
| 32 | 03-11-21 | Pakistan vs West Indies | Super 12 | Group 1 |
| 33 | 04-11-21 | Australia vs TBC | Super 12 | Group 1 |
| 34 | 04-11-21 | Afghanistan vs England | Super 12 | Group 2 |
| 35 | 05-11-21 | South Africa vs TBC | Super 12 | Group 2 |
| 36 | 05-11-21 | India vs TBC | Super 12 | Group 2 |
| 37 | 06-11-21 | Pakistan vs TBC | Super 12 | Group 1 |
| 38 | 06-11-21 | Australia vs New Zealand | Super 12 | Group 1 |
| 39 | 07-11-21 | England vs TBC | Super 12 | Group 2 |
| 40 | 07-11-21 | West Indies vs TBC | Super 12 | Group 1 |
| 41 | 08-11-21 | South Africa vs TBC | Super 12 | Group 2 |
| 42 | 08-11-21 | India vs Afghanistan | Super 12 | Group 2 |
| Date | Team | Match Name |
| --- | --- | --- |
| 11 Nov 2021 | TBC vs TBC | 1st Semi-Final |
| 12 Nov 2021 | TBC vs TBC | 2nd Semi-Final |
| 14 Nov 2021 | TBC vs TBC | Final |