The Ballon d'Or 2020 was cancelled in the previous year. The organizers stated that the cancellation was due due to the coronavirus pandemic, curtailed campaigns and matches played behind closer doors. Fans felt pity for the Bayern Munich striker, Lewandowski because he was clearly the favorite to win the award at that time. However, the Ballon d'Or has come back this year and the world's best players are making their claim for the coveted individual honour. Football fans are also very excited with the returning of the award and they are hoping that it should be awarded to their favorite player. There are many big names in the line for this award. In this article, we will give you a detail analysis of the Top 3 contenders for Ballon d'Or 2021.
When will Ballon d'Or 2021 be announced?
On 29 November, the men's and women's Ballon d'Or winners will be awarded at a gala event at the Chatelet Theatre in Paris. The ceremony will also witness the handing out of Kopa Trophy to the best men's player under 21, and the Yashin Trophy, handed to the best goalkeeper.
Lionel Messi, the winner of last Ballon d'Or is in contention for his seventh prize. There are plenty of other excellent players from around the world who would give him a stiff competition in being the standout player of the year.
Ballon d'Or 2021 30-man shortlist
The 30-man shortlist for the 2021 Ballon d'Or has been revealed. The name in the list are all familiar with some surprise entries too. There are so many players who genuinely deserved to win. Unlike previous times, this year the competition is quite close.
Cesar Azpilicueta (Chelsea)
Nicolo Barella (Inter Milan)
Karim Benzema (Real Madrid)
Leonardo Bonucci (Juventus)
Kevin De Bruyne (Manchester City)
Giorgio Chiellini (Juventus)
Cristiano Ronaldo (Manchester United)
Ruben Dias (Manchester City)
Gianluigi Donnarumma (Paris Saint-Germain)
Bruno Fernandes (Manchester United)
Phil Foden (Manchester City)
Erling Haaland (Borussia Dortmund)
Jorginho (Chelsea)
Harry Kane (Tottenham)
N'Golo Kante (Chelsea)
Simon Kjaer (AC Milan)
Robert Lewandowski (Bayern Munich)
Romelu Lukaku (Chelsea)
Riyad Mahrez (Manchester City)
Lautaro Martinez (Inter Milan)
Kylian Mbappe (Paris Saint-Germain)
Lionel Messi (Paris Saint-Germain)
Luka Modric (Real Madrid)
Gerard Moreno (Villarreal)
Mason Mount (Chelsea)
Neymar (Paris Saint-Germain)
Pedri (Barcelona)
Mohamed Salah (Liverpool)
Raheem Sterling (Manchester City)
Luis Suarez (Atletico Madrid)
Jorginho (Chelsea)
Jorginho is a player who has made to the top three contenders because of trophies won by him. Trophies are very influential in the Ballon d'Or race. The midfielder might not get a place in most fans' list but he has forced his way here in the Ballon d'Or Top 3.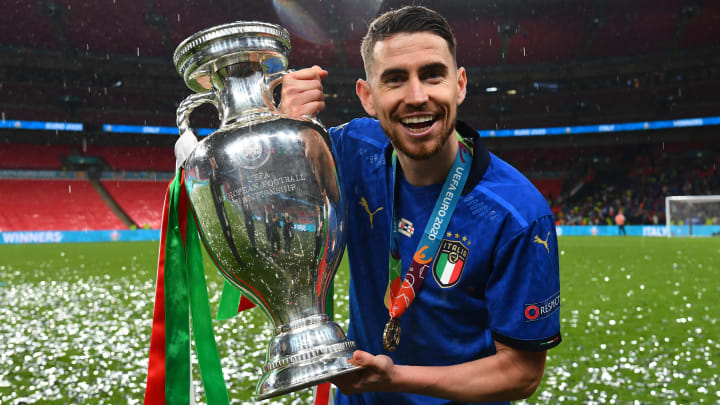 He played a crucial role in Chelsea's Champions League win and Italy's Euro win. After that he headed towards the Super Cup to expand his trophy cabinet. In 2021, Jorginho scored eight goals and provided three assists, which is not bad for a defensive midfielder. What is more influential is that he won Euro 2020, Champions League & UEFA Super Cup.
His favorable point is that he has won the best European trophies at both club and international level, Jorginho emerged as a big player after Thomas Tuchel's arrival at Chelsea.
Jorginho played every minute for Chelsea in the Champions League knockout games except in the last-16 second leg vs Atletico Madrid because he was suspended. He also played all-but 15 minutes of Italy's Euro 2020-winning campaign. Another strong point in favor of Jorginho is that he was awarded the Uefa Men's Player of the Year after he also lifted the Super Cup with Chelsea.
He is among the top contenders when it comes to the Ballon d'Or race, but it is also quite certain that we will not find him on the podium at the ceremony.
Lionel Messi (Barcelona, PSG)
Lionel Messi, who is the most familiar name in the Ballon d'Or list has not won many trophies this year. He just won the Copa del Rey with Barcelona and Copa America with Argentina. What matter is how he won those. He had an immense contribution in those campaigns that gets him so high up these rankings.
In 2021, Lionel Messi scored 40 goals and provided 14 assists. Talking about titles, he won Copa America & Copa del Rey. However, after joining PSG, things have been quite difficult for him and his wait for a first Ligue 1 goal goes on.
Why Lionel Messi is not able to score for PSG in Ligue 1?
Messi was also sensational in La Liga last year. He scored 38 goals and provided 14 assists in 52 games which helped Barcelona finish third in La Liga and win the Copa del Rey.
Argentina won the Copa America by defeating Brazil 1-0 in the final. It was the first major International trophy for Messi. He was the player of the tournament in Copa America 2021. Messi had the joint-most goals (4), most chances created (21), most goal contributions (9), assists (5), shots (28), and shots on target (11).
Messi alongside Cristiano Ronaldo, is the most consistent player throughout the years. It wouldn't be a surprise to see him picking his seventh award on 29 November.
Robert Lewandowski (Bayern Munich)
The star player of Bayern deserved the award most if we talk emotionally. He was the major contender last year but the award was cancelled. Lewandowski has again made it to the list this time.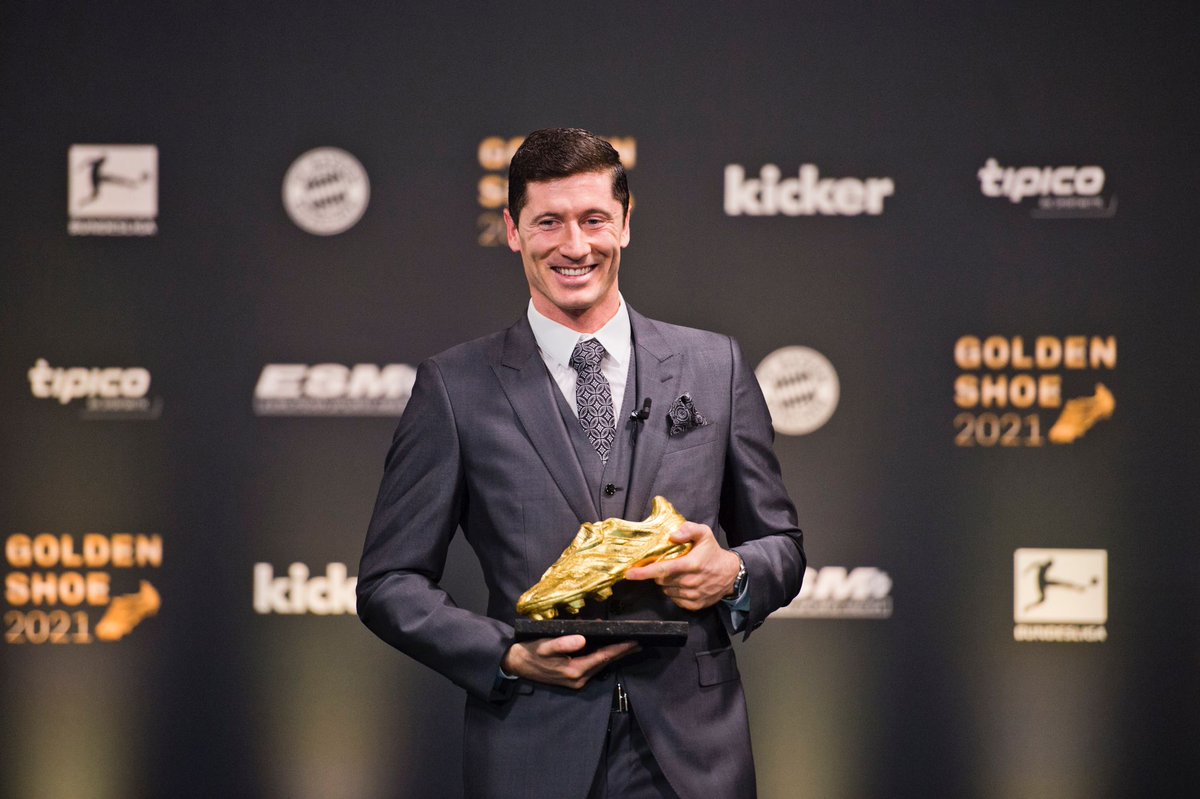 In 2021, Robert Lewandowski scored 59 goals and provided nine assists. His goal count is quite a huge figure. He won Bundesliga, Club World Cup & DFL-Supercup. There is no doubt that the Poland international has been the most consistent performer over the course of 2021. He won the European Golden Shoe after scoring 48 goals in 40 games last season.
Robert Lewandowski has everything that it requires to get his hands on the Ballon d'Or this time around.