When it comes to the world of cricket, few names shine as brightly as Virat Kohli. With a career that has been nothing short of extraordinary, Kohli's journey in One Day Internationals (ODIs) has been marked by his remarkable consistency and unparalleled talent. In this article, we delve deep into all ODI Centuries of Virat Kohli and the sheer brilliance that has set him apart.
How many ODI centuries Kohli has?
Virat Kohli has scored 50 centuries in One Day Internationals (ODIs) till date.
When was Virat Kohli first ODI century?
Virat Kohli scored his first century in One Day International (ODI) cricket on December 24, 2009, during a match against Sri Lanka in Kolkata, India.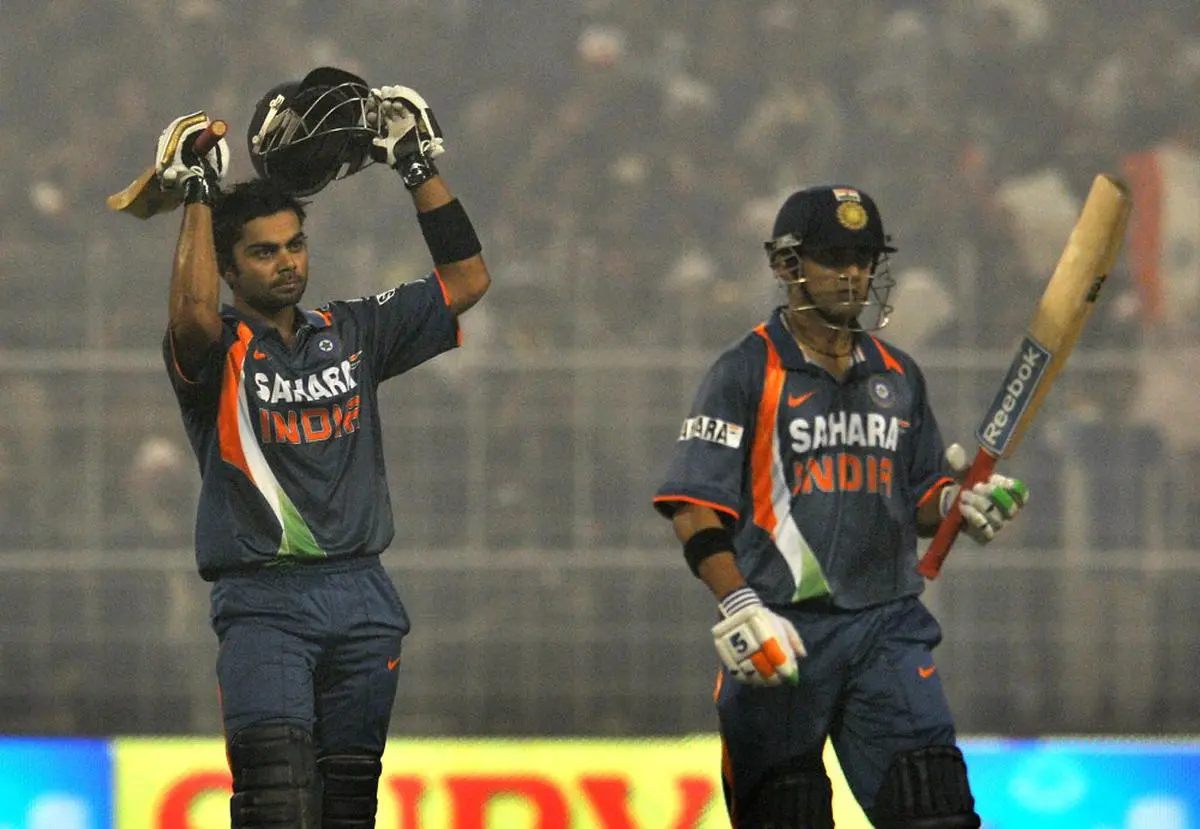 Over the years, he continued to pile up centuries, becoming one of the leading century-makers in ODI history. Some of his most memorable centuries include his 183* against Pakistan in the 2012 Asia Cup, a masterful 133* against Sri Lanka in 2012 to help India chase down a target of 321, and a record-breaking 183 against Pakistan in the 2012 Asia Cup. His centuries have played a significant role in India's success in ODI cricket and have solidified his reputation as one of the modern greats of the game.
All ODI Centuries of Virat Kohli
| | | | | |
| --- | --- | --- | --- | --- |
| S.No. | Date | Score | Opponent | Location |
| 1 | 24th December, 2009 | 107 | Sri Lanka | Kolkata |
| 2 | 11th January, 2010 | 102* | Bangladesh | Mirpur |
| 3 | 20th October, 2010 | 118 | Australia | Visakhapatnam |
| 4 | 28th November, 2010 | 105 | New Zealand | Guwahati |
| 5 | 19th February, 2011 | 100* | Bangladesh | Mirpur |
| 6 | 16th September, 2011 | 107 | England | Cardiff |
| 7 | 17th October, 2011 | 112* | England | Delhi |
| 8 | 2nd December, 2011 | 117 | West Indies | Visakhapatnam |
| 9 | 28th February, 2012 | 133* | Sri Lanka | Hobart |
| 10 | 13th March, 2012 | 108 | Sri Lanka | Mirpur |
| 11 | 18th March, 2012 | 183 | Pakistan | Mirpur |
| 12 | 21st July, 2012 | 106 | Sri Lanka | Hambantota |
| 13 | 31st July, 2012 | 128 | Sri Lanka | Colombo |
| 14 | 5th July, 2013 | 102 | West Indies | Port of Spain |
| 15 | 24th July, 2013 | 115 | Zimbabwe | Harare |
| 16 | 16th October, 2013 | 100* | Australia | Jaipur |
| 17 | 30th October, 2013 | 115* | Australia | Nagpur |
| 18 | 19th January, 2014 | 123 | New Zealand | Napier |
| 19 | 26th February, 2014 | 136 | Bangladesh | Fatullah |
| 20 | 17th October, 2014 | 127 | West Indies | Dharamshala |
| 21 | 16th November, 2014 | 139* | Sri Lanka | Ranchi |
| 22 | 15th February, 2015 | 107 | Pakistan | Adelaide |
| 23 | 22nd October, 2015 | 138 | South Africa | Chennai |
| 24 | 17th January, 2016 | 117 | Australia | Melbourne |
| 25 | 20th January, 2016 | 106 | Australia | Canberra |
| 26 | 23rd October, 2016 | 154* | New Zealand | Mohali |
| 27 | 15th January, 2017 | 122 | England | Pune |
| 28 | 6th July, 2017 | 111* | West Indies | Kingston |
| 29 | 31st August, 2017 | 131 | Sri Lanka | Colombo |
| 30 | 3rd September, 2017 | 110* | Sri Lanka | Colombo |
| 31 | 22nd October, 2017 | 121 | New Zealand | Mumbai |
| 32 | 29th October, 2017 | 113 | New Zealand | Kanpur |
| 33 | 1st February, 2018 | 112 | South Africa | Durban |
| 34 | 7th February, 2018 | 160* | South Africa | Cape Town |
| 35 | 16th February, 2018 | 129* | South Africa | Centurion |
| 36 | 21th October, 2018 | 140 | West Indies | Guwahati |
| 37 | 24th October, 2018 | 157* | West Indies | Visakhapatnam |
| 38 | 27th October, 2018 | 107 | West Indies | Pune |
| 39 | 15th January, 2019 | 104 | Australia | Adelaide |
| 40 | 5th March, 2019 | 116 | Australia | Nagpur |
| 41 | 8th March, 2019 | 123 | Australia | Ranchi |
| 42 | 11th August, 2019 | 120 | West Indies | Port of Spain |
| 43 | 14th August, 2019 | 114* | West Indies | Port of Spain |
| 44 | 10th December, 2022 | 113 | Bangladesh | Chattogram |
| 45 | 10th January, 2023 | 113 | Sri Lanka | Guwahati |
| 46 | 15th January, 2023 | 166 | Sri Lanka | Thiruvananthapuram |
| 47 | 11th September 2023 | 122* | Pakistan | Colombo |
| 48 | 19th October 2023 | 103* | Bangladesh | Pune |
| 49 | 5th November 2023 | 101* | South Africa | Kolkata |
| 50 | 15th November 2023 | 117 | New Zealand | Mumbai |