Royal Challengers Bangalore (RCB) is a well-known cricket franchise that has always been in the limelight for its unique style and gameplay. One of the reasons that make RCB stand out from other IPL teams is their team color, which is red and gold. RCB traditionally wears red and black as its primary colors, but in recent years, they have also introduced a green jersey as part of their alternate kit. The green jersey is often worn during select matches of the IPL season, and it has become quite popular among fans of the team. Do you know why RCB wear green jersey in IPL and when will RCB wear green jersey in IPL 2023?
Why RCB  wear green jersey in IPL?
The green jersey is an initiative taken by RCB in collaboration with the United Nations (UN) to promote sustainability and the importance of protecting the environment. The jersey will be made from 100% recycled plastic, and the players will also wear recycled plastic shoes. By wearing these green jerseys, RCB aims to spread awareness about sustainable living and reduce the carbon footprint in sports.
What is the significance of RCB green jersey?
The green jersey has been designed to showcase RCB's commitment to sustainability and the environment. It features a green and gold combination, with the team's logo in the center. The jersey's design also includes a tree on the back, symbolizing RCB's dedication to planting trees and promoting a greener environment. The team's sponsors have also stepped up to support the cause, and their logos will be printed in green instead of their usual colors.
When will RCB wear green jersey in IPL 2023?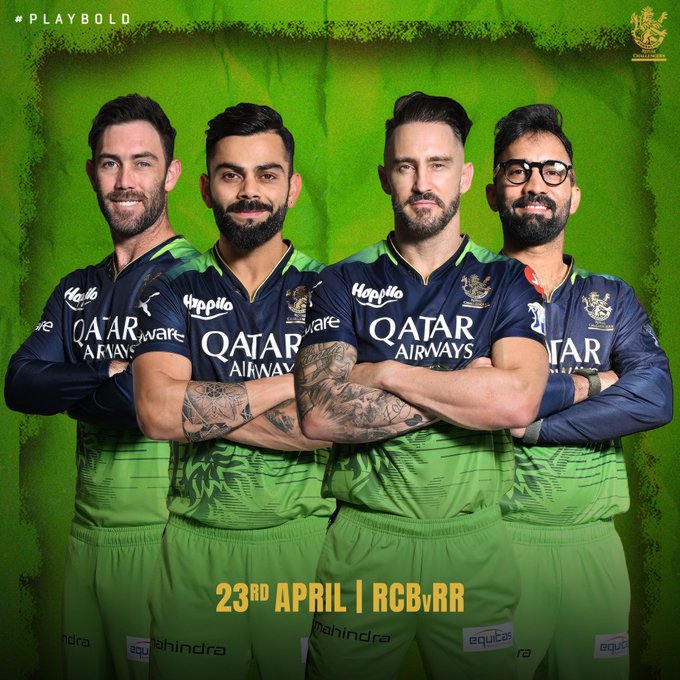 RCB is all set to surprise their fans as they will be seen donning green jerseys for their home game against Rajasthan Royals (RR) on April 23, 2023, in the Indian Premier League (IPL) season.
The news of RCB donning green jerseys has created a buzz among cricket fans worldwide. Fans have taken to social media to express their excitement and appreciation for the team's initiative. Many have lauded RCB for promoting sustainable living and taking a step towards reducing carbon emissions. The move has also gained support from various environmental organizations and celebrities, further cementing RCB's place as a socially responsible cricket franchise.