It seems like Team India have found the player who is eligible to take MS Dhoni, the wicket-keeper batsman's place in the Indian side. The player is one and only, Rishabh Pant. Although, those are some very big shoes to fill but Pant can definitely overcome the challenges and will fit in perfectly. Rishabh Pant has been in an amazing form with the bat across all formats in the previous few months. He has established himself as the first choice wicketkeeper of Indian Cricket Team in all three formats. He also became the first Indian keeper-batsman to break into the top ten Test rankings. Rishabh Pant reached this level by beating the likes of Wriddhiman Saha and Sanju Samson. Pant is also leading the Delhi Capitals side this year due to Shreyas Iyer's shoulder injury. As Pant is being appreciated for his consistent performances, fans are also curious to know about the player's love life. Do you know Who is Rishabh Pant's Girlfriend.
In the recent days, Rishabh Pant has been in the news because of his feud with bollywood actress Urvashi Rautela. It is not yet clear as to what had actually happened between the two. It is rumored that Urvashi used to stalk Pant and the cricketer blocked her. However, one thing is for sure that Urvashi is definitely not Pant's girlfriend.
Who is Rishabh Pant's Girlfriend?
Isha Negi is the girlfriend of Indian wicketkeeper, Rishabh Pant. Both of them have uploaded various pictures of them together on social media. They are one of the most talked about young couples in the field of cricket. The young couple made their relationship public on social media in 2019. Rishabh Pant and Isha Negi both shared a photo on their Instagram account and made their relationship public.
On 16th January 2019, Negi posted a picture on her Instagram with the caption "My man, my soulmate, my best friend, the love of my life. @rishabpan"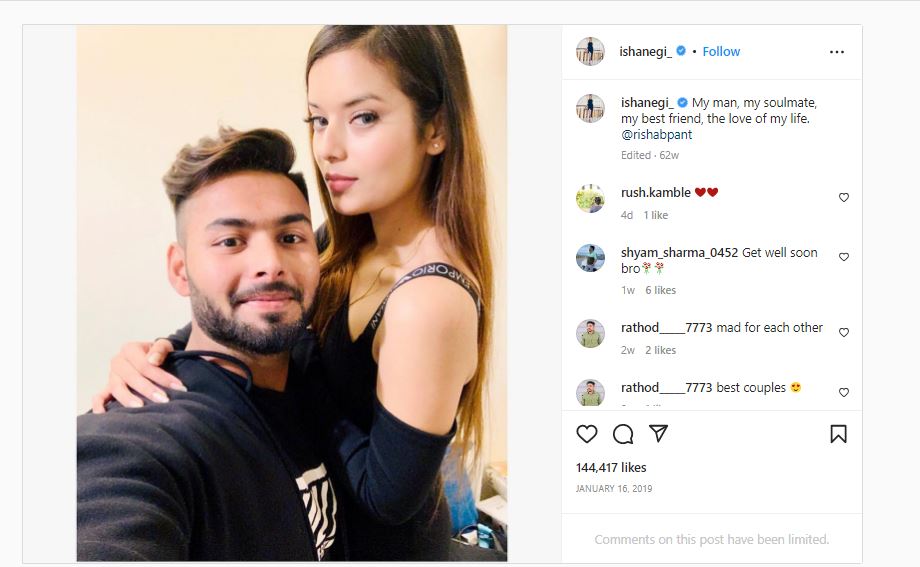 Who is Isha Negi?
Isha Negi was born on 20 February 1997. She comes from Dehradun, Uttarakhand. She was born in a business family and inherited the tradition as she is also in the field of business. Isha went to Convent of Jesus and Mary (CJM School) in Dehradun for her schooling. Isha Negi is a BA English honours holder, graduated from Delhi's famous Amity University. At present, she is an Entrepreneur – Interior Decor Designer.