Jofra Archer burst onto the international cricket scene with his electrifying pace and pinpoint accuracy. His ability to consistently clock speeds of over 90 mph (145 km/h) sends shivers down the spines of opposition batsmen. Archer possesses a remarkable blend of raw speed and the ability to move the ball both ways, making him a nightmare for any batsman to face. In the world of cricket, taking wickets is the most potent weapon a team can possess, and Archer has proven to be a master of this art. He has a knack for breaking partnerships and dismissing key opposition batsmen when needed the most. Whether it's in Test cricket, One Day Internationals, or T20 matches, Archer consistently delivers vital breakthroughs for his team. Let's see why Jofra Archer is not playing at ODI World Cup 2023?
2019 World Cup Hero
Jofra Archer played a pivotal role in England's historic 2019 ICC Cricket World Cup triumph. His performance in the final, where he bowled the crucial Super Over, will forever be etched in cricketing history. Archer's composure under intense pressure showcased his mental strength, making him a go-to bowler in high-stakes situations.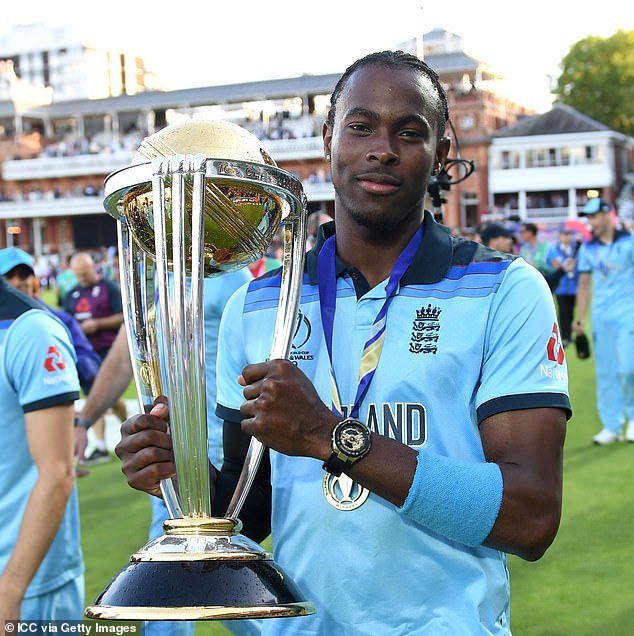 In the world of cricket, Jofra Archer's name resonates with excellence, agility, and game-changing performances. However, it came as a shock to many cricket enthusiasts when England's 2023 ODI World Cup squad was announced, and Archer's name was conspicuously absent from the roster. In this article, we delve into the reasons behind this unexpected decision and examine the potential impact it may have on England's World Cup campaign.
Why Jofra Archer is not playing at ODI World Cup 2023?
Lethal fast bowler Jofra Archer is not playing at the ODI World Cup 2023 in India because the he was not selected in the 15 member squad of England Cricket Team. The reason behind his omission was his fitness. England's management was desperately waiting for Archer to recover in time but unfortunately it did not happen. Archer has been out of cricket for a long time due to his recurring injuries. Over the past few years, he has battled with various physical ailments, including stress fractures and elbow issues. These injuries have hampered his consistency and availability for selection.