Cricket, often dubbed the religion of India, holds a special place in the hearts of millions of fans across the country. The year 2011 marked a historic moment in Indian cricket history as the national team clinched the coveted ICC Cricket World Cup. This victory was particularly sweet as it came after a long wait of 28 years, making it an unforgettable journey of dedication, passion, and triumph. In this blog post, we will explore the fascinating journey of Team India to their 2011 World Cup victory.
The Building up of Squad
India's campaign to win the 2011 Cricket World Cup began years before the tournament itself. The groundwork for this victory was laid with meticulous planning, dedication, and rigorous training. The team, captained by the charismatic Mahendra Singh Dhoni, was equipped with a blend of young talent and experienced stalwarts.
India's preparation for the 2011 Cricket World Cup was a meticulous process that involved strategic selection and nurturing talent. The team management, led by captain Mahendra Singh Dhoni and coach Gary Kirsten, focused on building a well-balanced squad with a blend of experience and youth. Key players like Sachin Tendulkar, Virender Sehwag, and Zaheer Khan provided the necessary experience, while youngsters like Virat Kohli and Suresh Raina brought in fresh energy. The team's batting prowess, coupled with a formidable bowling attack, including the likes of Harbhajan Singh and Munaf Patel, made India a formidable force. The meticulous planning and emphasis on teamwork ultimately paid off, as India lifted the World Cup, showcasing the success of their thoughtful squad-building approach.
India's 2011 world cup squad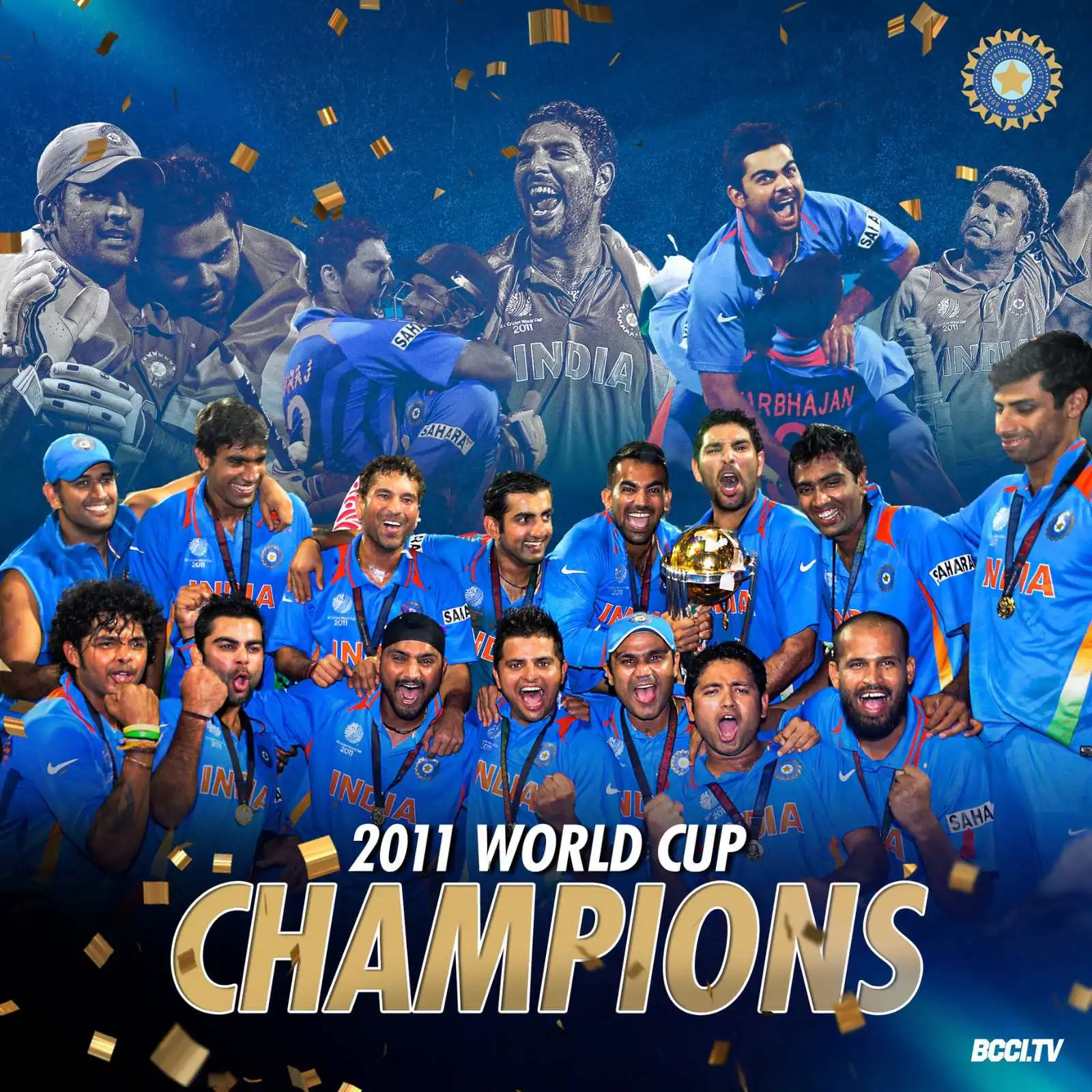 1. MS Dhoni (Captain & Wicketkeeper), 2. Virender Sehwag, 3. Sachin Tendulkar, 4. Gautam Gambhir, 5. Virat Kohli, 6. Yuvraj Singh, 7. Suresh Raina, 8. Yusuf Pathan, 9. Harbhajan Singh, 10. Zaheer Khan, 11. Munaf Patel, 12. Sreesanth, 13. Ashish Nehra, 14. R. Ashwin, 15. Piyush Chawla.
2011 World Cup – The Group Stage
India was placed in Group B alongside Bangladesh, England, Ireland, Netherlands, South Africa, and the West Indies.
Match 1 : India vs. Bangladesh
India's journey to the 2011 World Cup title began with a match against Bangladesh. The opener was an easy win for Team India. An impressive innings from Virender Sehwag and a world cup debut century from young Virat Kohli helped Indian team to give a huge target to Bangladesh. Virender Sehwag's explosive innings set the tone, and India successfully defended their target, securing a win. This positive start provided the team with a platform to build momentum for the rest of the tournament, ultimately culminating in India's triumph as the 2011 World Cup champions.
Match 2 : India vs. England
The 2011 Cricket World Cup encounter between India and England was a nail-biting contest that ended in a dramatic tie. In a high-scoring match, India posted a formidable total with Sachin Tendulkar's brilliant century. England, led by Andrew Strauss, responded strongly, fueled by Andrew Strauss and Ian Bell's impressive performances. However, the game took a thrilling turn in the final overs as England required 14 runs off the last over. With some exceptional bowling from Munaf Patel and tight fielding, India managed to restrict England to the exact score, resulting in an electrifying tie.
Match 3 : India vs. Ireland
In the 2011 Cricket World Cup group stage match between India and Ireland, Ireland batted first. They put up a commendable performance, posting a challenging total. However, India, known for their strong batting lineup, successfully chased the target with a clinical display. The match highlighted the depth of India's batting prowess, as key contributions from the likes of Gautam Gambhir and Yuvraj Singh ensured a convincing victory for India. The encounter showcased the team's adaptability and ability to handle diverse match situations during their journey to becoming World Cup champions.
Match 4 : India vs. Netherlands
Facing the Netherlands, India approached the game with utmost professionalism. It was an easy win for India as Netherlands gave a low target batting first. The Indian batsman chased the target easily and guided India to a convincing victory. The match highlighted India's adaptability and reinforced their status as serious contenders in the tournament.
Match 5 : India vs. South Africa
In the 2011 Cricket World Cup, India faced a challenging match against South Africa in the group stage. Despite a valiant effort, India succumbed to defeat in this encounter. The South African team put up a formidable performance, and despite India's attempts to secure victory, they fell short. It was the only match in 2011 World Cup in which Indian team suffered defeat. After posting a huge total of 296 runs, India failed to defend it and lost the match.
Match 6 : India vs. West Indies
The India vs. West Indies match in the 2011 World Cup was a crucial encounter that took place during the group stage. India, batting first, posted a formidable total of 268 runs, with contributions from Gautam Gambhir and Yuvraj Singh. India's bowlers, led by Munaf Patel and Zaheer Khan, managed to control the game, restricting the West Indies to 188 runs. India emerged victorious, showcasing their batting prowess and effective bowling strategies in a high-scoring contest.
2011 World Cup Quarterfinal: India vs. Australia
As India progressed to the knockout stage, the stakes grew higher. In the quarter-finals, India faced Australia, a team that had dominated the World Cup for many years. A brilliant team effort saw India beat the defending champions and move to the semi-finals.
While batting first, Australia posted a total of 260 runs. With commendable performance from Yuvraj Singh, India was able to chase down the target in the final overs of the match.
2011 World Cup Semifinal: India vs. Pakistan
In the semi-finals, India played arch-rivals Pakistan, and the match was a high-pressure affair. However, India's bowlers, led by the exceptional performance by bowlers, India secured a memorable victory.
In a highly anticipated semifinal against arch-rivals Pakistan, emotions ran high. Tensions were palpable, but India maintained their composure. Sachin Tendulkar's crucial innings and balanced performances from the bowlers sealed the victory, propelling India into the World Cup final and igniting nationwide celebrations.
2011 World Cup Final: India vs. Sri Lanka – Glorious Triumph at Wankhede
The grand finale of the 2011 Cricket World Cup took place at Wankhede Stadium in Mumbai. India faced Sri Lanka, another cricketing powerhouse. Sri Lanka batted first and set a target of 275 runs. India's chase was anchored by Gautam Gambhir's impressive 97 and finished by captain MS Dhoni's unbeaten 91. The winning moment came with Dhoni's iconic six over long-on, and India achieved the target, winning the World Cup after 28 long years.
India's path to 2011 World Cup
| Date | Match | Opponent | Result |
| --- | --- | --- | --- |
| 19-Feb-2011 | Group B – Match 2 | Bangladesh | Won |
| 27-Feb-2011 | Group B – Match 8 | England | Tie |
| 6-Mar-2011 | Group B – Match 15 | Ireland | Won |
| 9-Mar-2011 | Group B – Match 19 | Netherlands | Won |
| 12-Mar-2011 | Group B – Match 23 | South Africa | Lost |
| 20-Mar-2011 | Group B – Match 30 | West Indies | Won |
| 24-Mar-2011 | Quarter-Final | Australia | Won |
| 30-Mar-2011 | Semi-Final | Pakistan | Won |
| 2-Apr-2011 | Final | Sri Lanka | Won |
The entire nation erupted in joy as India lifted the World Cup trophy. Streets were filled with jubilant fans celebrating the historic victory. The team's homecoming was nothing short of a grand spectacle, and the players were welcomed as heroes.