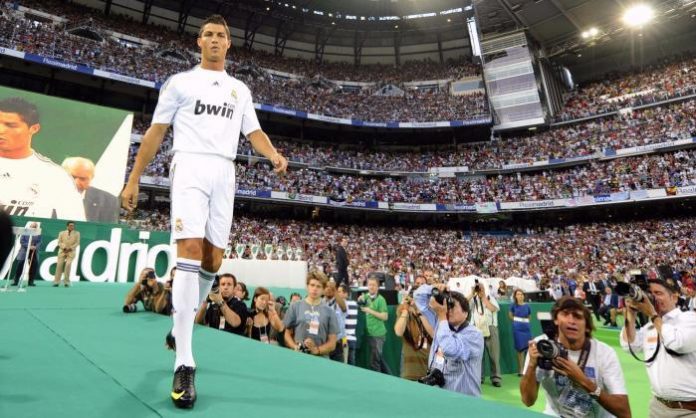 In the present time, the football clubs have been spending huge sums of money on players. In each successive transfer window, records are made regarding transfers and signings. The European clubs are in the front when it comes to spending money. Real Madrid, arguably, the greatest football club in history, never shied away from spending big money on star players in the transfer market. It was none other than Real Madrid who started the culture of star signings. They were nicknamed as 'Los Galacticos' because they used to brought in at least one big superstar in every summer transfer window between 2000 to 2006. Let's take a look at Real Madrid Top 10 most expensive signings of all time.
Real Madrid Top 10 most expensive signings of all time
10. Eder Militao || 2019
The leading center back of current Real Madrid team. Los Blancos splashed €50 million (£45 million) in acquiring Eder Militao from Portuguese club Porto FC in 2019. The sum was quite high because at that time, the Brazilian defender was just 21-year-old. Madrid's decision turned out to be rewarding as Militao has formed an excellent defensive partnership with David Alaba and has proved himself to be one of the best defenders at Real Madrid.
9. Luis Figo || 2000
This was one of the most controversial transfers in football history. The Portuguese superstar made a highly-controversial switch from Barcelona to its rival Real Madrid. Real Madrid signed him for a then world record fee of €60 million (£54 million).
8. Luka Jovic || 2019
This was one of the most failed signing in Real Madrid history. The Serbian striker was signed to be a backup striker. At that time, every major club was after him during that summer. Real Madrid splashed €60 million (£54 million) on the young forward in order to bring him from Eintracht Frankfurt back in 2019. He failed to impress at the Bernabeau and was offloaded to Fiorentina in the 2022 summer transfer window for free.
7. Kaka || 2009
The Galacticos era was started at the club and the signing of Brazilian midfielder was second attempt of that era. Real Madrid signed Kaka from AC Milan in the summer transfer window of 2009 for an eye-watering €67 million (£60.30 million). In that transfer window, Madrid also signed Cristiano Ronaldo. Kaka's legacy at Real Madrid was not as charming compared to the price-tag.
6. James Rodriguez || 2014
Real Madrid brought in James Rodriguez from AS Monaco after paying a hefty €75 million (£67.50 million). Madrid decided to sign him after his incredible individual performance for Colombia at the 2014 FIFA World Cup in 2014. His career at Real Madrid did not last as expected because he was not included in the plans of then manager Zidane.
5. Zinedine Zidane || 2001
One of the most loved players in the world, Zinedine Zidane arrived at Santiago Bernabeau after a blockbuster move from Juventus for a then world record fee of €77.50 million (£69.75 million). In his five year spell, the Frenchman established himself as a bonafide legend at the club.
4. Aurelien Tchouameni || 2022
Real Madrid were blessed with a legendary midfield trio of Casemiro, Kroos and Modric for a long time. However, it was necessary to find replacements for them in future. Real were searching for a defensive midfielder in the summer of 2022 and therefore signed Aurelien Tchouameni. The midfielder was signed from Monaco with a huge price tag of €80 million (£72 million).
3. Cristiano Ronaldo || 2009
Here comes the greatest player in the history of Real Madrid. This signing can also be termed as the greatest signing of all time. After chasing him for two years, Real Madrid eventually got Cristiano Ronaldo from Manchester United for a then world record €94 million (£84.60 million). The Portuguese attacker paid back a lot more to the club as compared to his price tag.
2. Gareth Bale || 2014
It was habitual for Real Madrid to broke their transfer record in successive years. Real Madrid signed Gareth Bale from Tottenham Hotspur in 2014 for a hefty price of €101 million (£90.90 million). The sprinter was a crucial part of legendary attacking trio of BBC including Cristiano Ronaldo and Karim Benzema. Bale definitely justified his price tag at Real Madrid but he did not reach his full potential due to injuries.
1. Eden Hazard || 2019
The most expensive as well as the worst signing by Real Madrid. It was a dream move for Chelsea superstar Eden Hazard in 2019 as Real Madrid shattered their all previous transfer records and signed him for €115 million (£103.50 million). Unfortunately, it didn't go as planned. Hazard, who was one of the best players at Premier League was not able to get a place in the playing 11 of Real Madrid. He spent majority of his time at the bench as he was either injured or unfit to play.