Euro 2020 and Copa America 2021 are among the most famous football tournaments in the world. There is huge popularity of these tournaments among the fans. Although their stardom is still lower than the FIFA World Cup, but still they managed to attract a large number of audience. Some football fans who are new to football are confused and want to know Why Indian Football Team is not in EURO or COPA America?
This is because India is not in the continent of Europe or South America. UEFA Euro is an international football tournament for countries of Europe whereas Copa America is an international football tournament for countries of South America.
India is an Asian country. Thus, they are a part of the Asian Football Confederation called AFC. Just like Euro tournament is for European countries and Copa America is for South American countries, India plays in AFC Asian Cup.
The following are the continents and their respective confederations :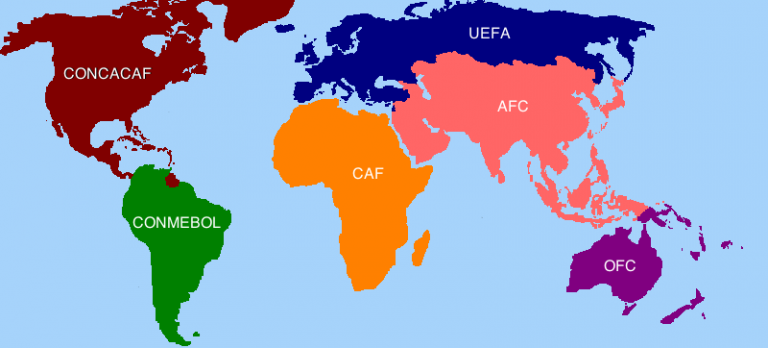 Europe (UEFA)
South America (CONMEBOL)
North and Central America (CONCACAF)
Africa (CAF)
Asia (AFC)
Oceania (OFC + Australia)
AFC Asian Cup
The AFC Asian Cup is an international football tournament which is organised by the Asian Football Confederation (AFC), to determine the continental champion of Asia. After Copa América, it is the second oldest continental football championship in the world . The winner of the AFC Asian Cup becomes the champion of Asia and make his qualification for the FIFA Confederations Cup.
India at the AFC Asian Cup
The AFC Asian Cup was founded in 1956. Since its start, Indian Football Team has qualified for four Asian Cups, in 1964, 1984, 2011 and 2019.
India at the AFC Asian Cup 2019
The recent participation of India in Asian Cup came in 2019. Indian Football Team travelled to UAE for the 2019 AFC Asian Cup under head coach Stephen Constantine. They were place in Group A. India won their opening match against Thailand but lost two remaining matches. Due to these poor results, they were eliminated in the group stage.