FIFA World Cup 2022 Qatar is scheduled to begin in November. The biggest international football tournament will return after a gap of four years. Every player dreams to play for his country at the World Cup. However, a few talented players failed to achieve this dream because there is a limit on the number of players in a nation's squad. Portugal won the EURO 2016 and also 2019 UEFA Nations League Finals. Therefore, they are also among the contenders to win the World Cup in Qatar. This World Cup is likely to be Cristiano Ronaldo's last dance. Portugal will bet everything to win the most coveted trophy. Fernando Santos is the current manager of Portugal Football team. It would be interesting to see Portugal World Cup 2022 Squad and Portugal Starting 11 World Cup 2022.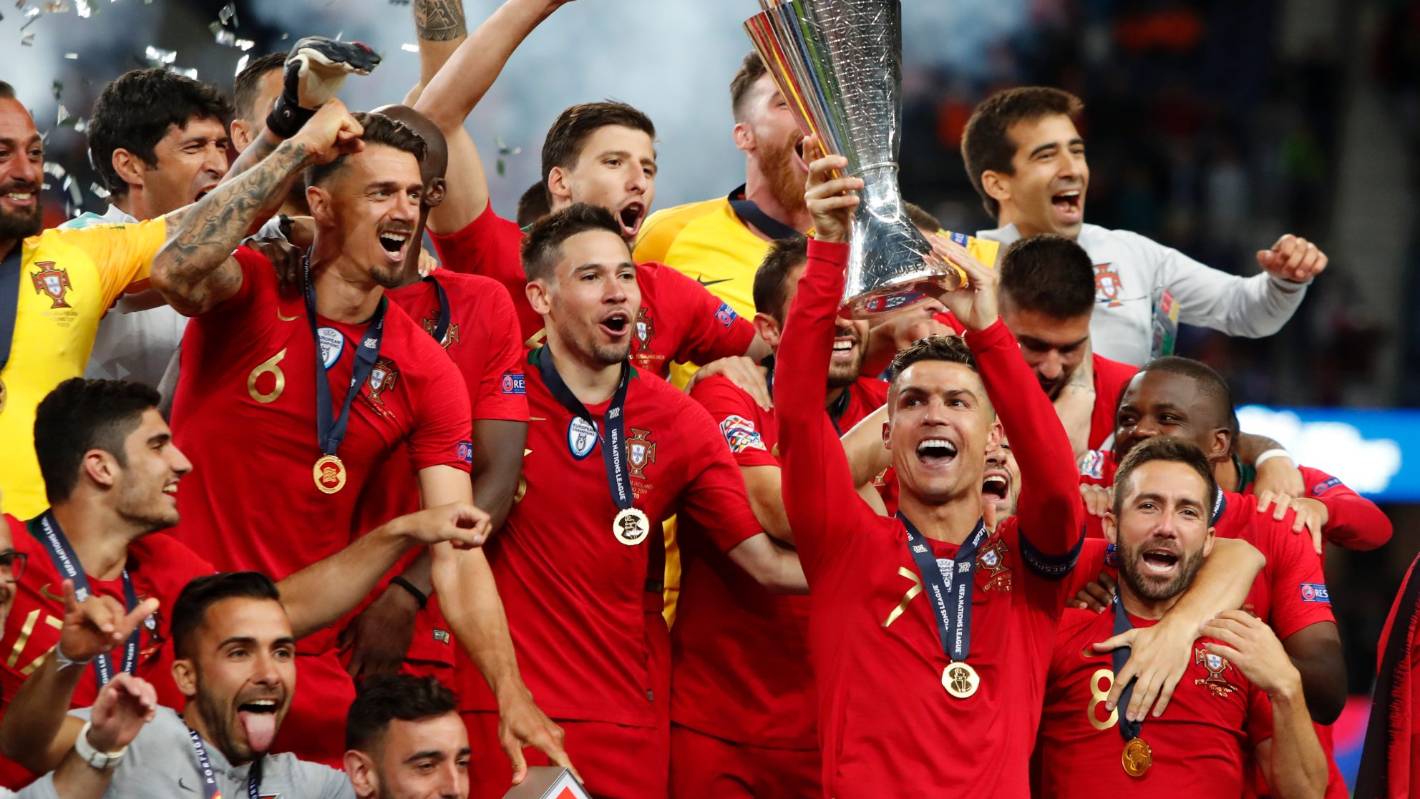 The 2022 World Cup will be Portugal's eighth appearance in the FIFA World Cups. The current golden generation of Portugal will try to live up to the expectations of its fans. The EURO 2016 champions have never won the World Cup trophy. Their best result came in 1966 when finished at third place. The journey to the World Cup in Qatar was quite difficult for Ronaldo and co. At a time, it looked like Cristiano might miss the World Cup in Qatar but in the end, Portugal secured qualification through the playoffs.
Portugal have been placed in Group H along with Uruguay, Ghana, and South Korea.
Portugal predicted line up against Uruguay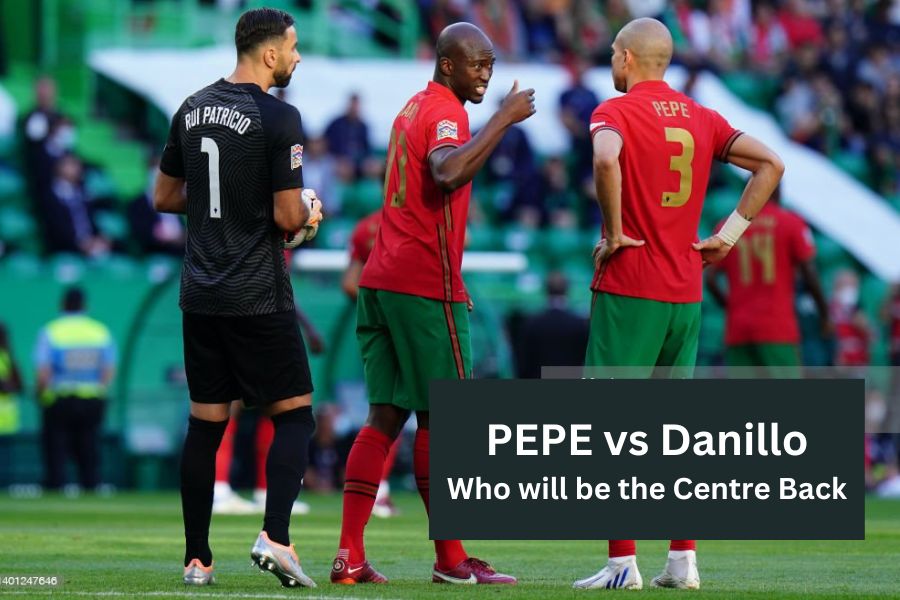 Portugal started their World Cup campaign with a win over Ghana. The starting 11 fielded by Fernando Santos was same as it was predicted. One of the most important takeaway from Portugal starting 11 was that Danillo Pereira started as a center back instead of veteran Pepe. He also delivered a justified performance in the back against Ghana. However, the team have suffered a big blow as Danilo Pereira suffered broken ribs during training. Portugal have to play their 2nd group-stage match against Uruguay and now their regular center back is ruled out. In this situation, former Real Madrid defender is most likely to start along with Ruben Dias in the defence against Uruguay.
Portugal World Cup 2022 Squad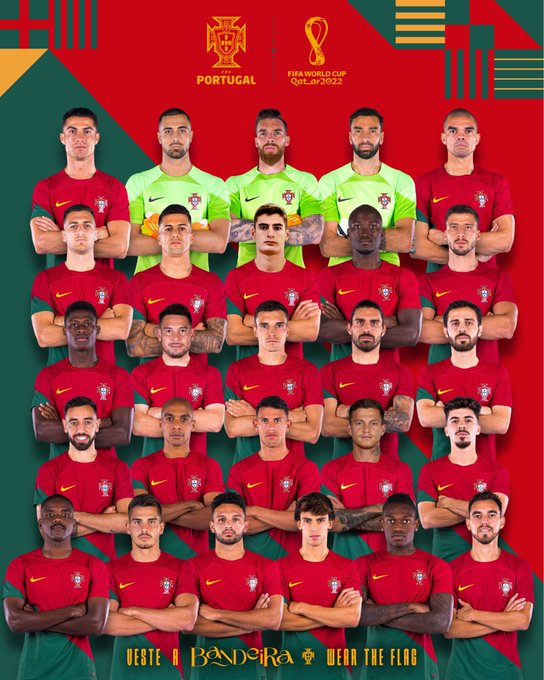 Goalkeepers: Diogo Costa (FC Porto), Jose Sa (Wolverhampton Wanderers FC), Rui Patricio (AS Roma).
Defenders: Diogo Dalot (Manchester United), Joao Cancelo (Manchester City), Danilo Pereira (Paris St Germain), Pepe (FC Porto), Ruben Dias (Manchester City), Antonio Silva (SL Benfica), Nuno Mendes (Paris St Germain), Raphael Guerreiro (Borussia Dortmund).
Midfielders: Joao Palhinha (Fulham FC), Ruben Neves (Wolverhampton Wanderers), Bernardo Silva (Manchester City), Bruno Fernandes (Manchester United), Joao Mario (SL Benfica), Matheus Nunes (Wolverhampton Wanderers FC), Vitinha (Paris St Germain), William Carvalho (Real Betis), Otavio (FC Porto).
Forwards: Cristiano Ronaldo (Manchester United), Joao Felix (Atletico Madrid), Rafael Leao (AC Milan), Ricardo Horta (SC Braga), Goncalo Ramos (FC Benfica), Andre Silva (RB Leipzig).
FIFA World Cup 2022 : Portugal Squad Analysis
Goalkeepers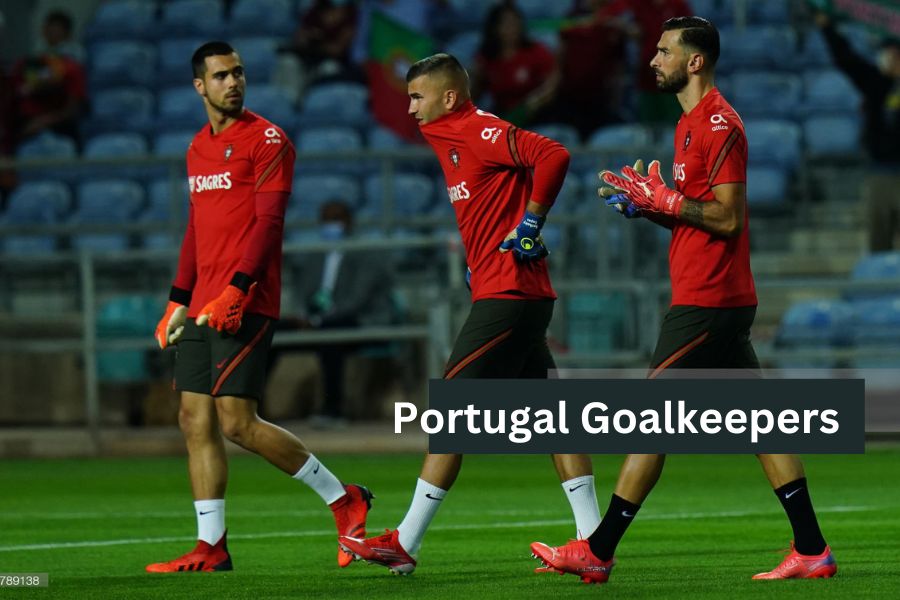 Portugal have a lot of big names in their squad but when it comes to keep the gloves, a strong player is missing. This department might give little worry to Santos. The coach has to choose between Diogo Costa and Rui Patricio. Another options are Wolves' Jose Sa, Tiago Rui Silva, Antony Lopes, and Claudio Ramos who are likely to remain unused. Let's see who gets a chance to feature in Portugal Starting 11 World Cup 2022.
Defenders
Over the years, Portugal have developed a solid defence line. Ruben Dias is all set to lead the defence but there is little doubt over the name of his partner. Pepe was not included in Portugal squad for Nations League due to injury. In his place, Fernando Santos deployed defensive midfielder Danillo Pereira. Another defensive options are Jose Fonte. There are enough options available for the spots of full backs. We have to wait a little to see the defending combination in Portugal Starting 11 World Cup 2022.
Midfielders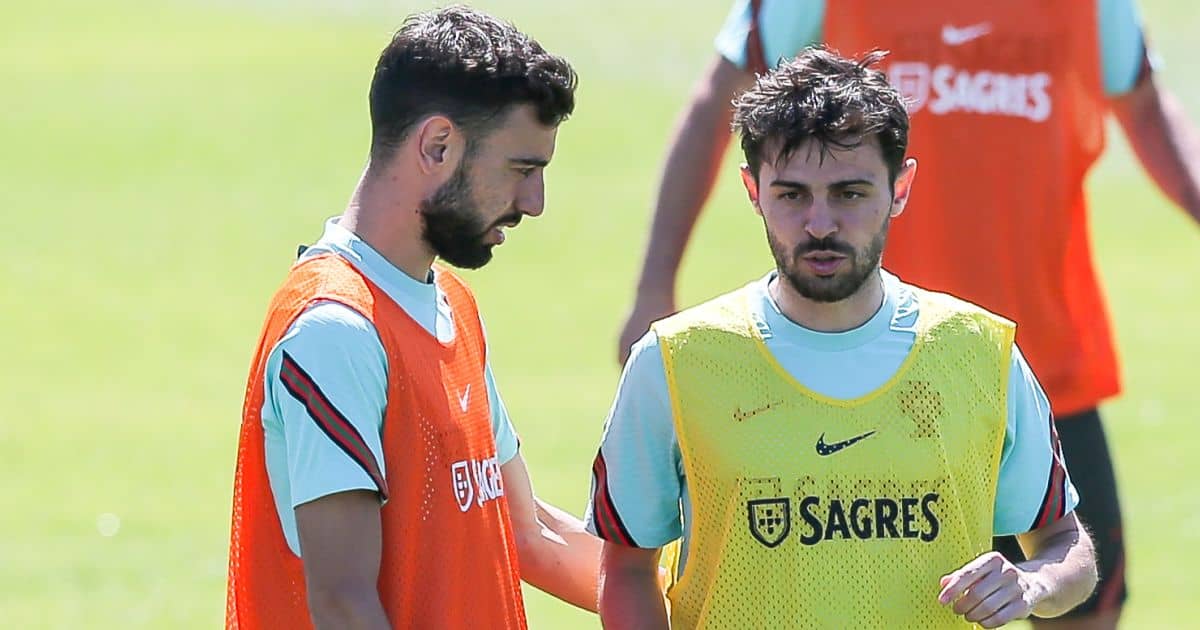 Fernando Santos has a plenty of high quality options available in the midfield area. It would be exciting to see his preferred three. In the last few months, Bruno Fernandes has secured a place in the starting 11. The matter of concern is around Renato Sanches. He emerged as a generational talent but didn't perform up to the mark. Experienced players like William Carvalho, Joao Moutinho and Andre Gomes provide further depth to the Portugal World Cup 2022 Squad.
Forwards
Just like the midfield section, Portugal's attacking department is also filled with world class forwards who play for top clubs in Europe. The players to form the front line are almost confirmed. A matter of concern has aroused regarding Diogo Jota. The Liverpool winger will miss the World Cup in Qatar after suffering a serious injury. The coach has to find his replacement. The options available are Joao Felix and Milan's Rafael Leao. Players like Andre Silva, Goncalo Ramos, Goncalo Guedes may also play a crucial role coming on as a substitute.
Why Sergio Ramos is not selected in Spain World Cup 2022 Squad ?
Portugal Starting 11 against Uruguay World Cup 2022 
Portugal Starting 11 World Cup (4-2-3-1) :- Diogo Costa; Joao Cancelo, Ruben Dias, Danillo Pereira, Nuno Mendes; Ruben Neves, Vitinha; Bernardo Silva, Bruno Fernandes, Rafael Leo; Cristiano Ronaldo.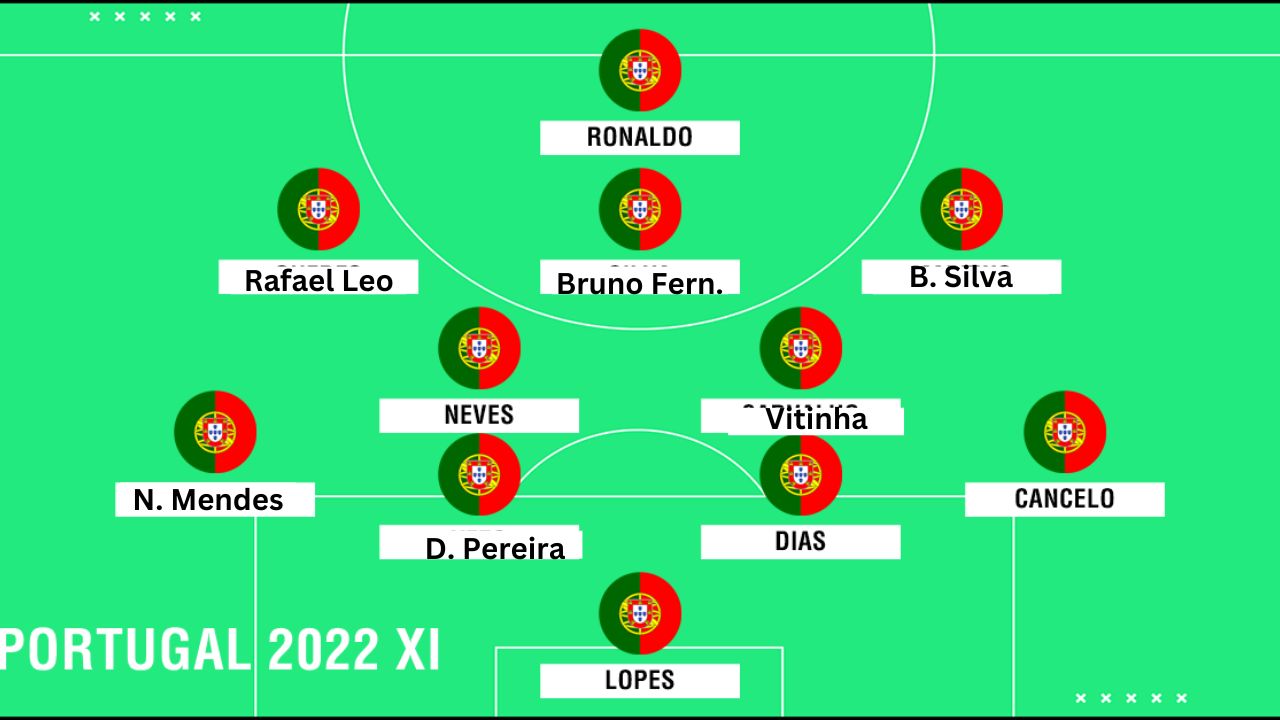 How PORTUGAL could line up against Uruguay in FIFA World Cup 2022
Diogo Costa (GK) :- Veteran keeper Rui Patricio remained the number one choice in Portugal Stating 11 but he is prone to errors. Fernando Santos has been putting faith in Porto's Diogo Costa. He is a young keeper and we might see him keeping the gloves Portugal Starting 11 World Cup 2022.

Portugal Starting 11 World Cup – Diogo Costa

Joao Cancelo (RB) :- Portugal have the best players available in this position. Joao Cancelo is all set to start for Portugal Starting 11 World Cup 2022 but he will surely get competition from Diogo Dalot and Nelson Semedo. The two alternative players are also regular starters in Europe's top clubs.

manchester city JOAO CANCELO

Ruben Dias (CB) :- Manchester City skipper Ruben Dias will be leading the defence of Portugal in Qatar. Ruben is also the main defender of one of the top clubs in Europe. In the recent years, he has established his place in Portugal starting 11.

Manchester City Ruben Dias

Danillo Perreira (CB) :- The name of second centre back is still not confirmed. The PSG midfielder is likely to get that spot. In the absence of Pepe, Danillo played the role of central defender quite well. He might play as a centre back in Portugal Starting 11 at World Cup.

Portugal Starting 11 Danillo Pereira

Nuno Mendes (LB) :- PSG youngster, Nuno Mendes is in the front position to start on the left flank in Portugal Starting 11 World Cup 2022. However, Santos might put his faith in experienced Raphael Guerreiro. Let's see who gets a place in Portugal starting lineup.

Portugal Starting LIneup Nuno Mendes

Ruben Neves (CDM) :- Veteran Joao Moutinho has been out of the plans for Portugal. The 25-year-old has the required skill to replace Moutinho and will definitely impress in games for his country. Fernando Santos is also an admirer of the Wolves youngster and might include him in Portugal starting 11.

Portugal World Cup Starting lineup – Ruben Neves

Vitinha (CDM) :- Vitinha has joined Paris Saint-Germain which has also taken his game to one level up. He is being seen as the successor of Verratti which shows that he has some X factor. He has got sufficient opportunities in the past few months and is likely to get a spot in Portugal Starting 11 for World Cup 2022.

Portugal World Cup Starting 11 – Vitinha

Bruno Fernandes (CAM) :- In the beginning, Bruno was not able to adapt to the playing style of Portugal and was kept on bench most of the time. He was not being able to play on the same levels as he plays for Manchester United. But the things have changed now and the midfielder has earned a regular spot in playing 11 of Portugal.

Cristiano Ronaldo and Bruno Fernandes

Bernardo Silva (RM) :- The Manchester City midfielder will be very crucial for Portugal in the upcoming World Cup. He has been playing a crucial role in City's success since his arrival at the Etihad Stadium. Silva is very dynamic and is able to play in various positions easily.

Manchester City Bernardo Silva

Rafael Leao (LM) :- Diogo Jota was all set to start on this position but unfortunately he is ruled out of World Cup after sustaining an injury. AC Milan forward Rafael Leao is the best option to replace Jota on the left wing. Leão has been playing on the left of the front three at Milan. If he gets a chance in Portugal Starting 11 then he might become one of the breakout stars in the World Cup.

Portugal Starting 11 World Cup – Rafael Leao

Cristiano Ronaldo (ST) :- Here comes the best player of all time, Cristiano Ronaldo. Ronaldo has been underperforming since the start of new season. He has been struggling to find the net and has spend the time mostly on bench. Still, the fans have great faith in him. Ronaldo is a different beast in Portugal jersey. He will lead the forward line in Portugal lineup.

Will FIFA World Cup 2022 be Cristiano Ronaldo's last one ?

Similar articles: