In a remarkable display of skill and determination, Cristiano Ronaldo led Al-Nassr to a triumphant victory, clinching first-ever trophy with his new club Al-Nassr in a historic Arab Club Champions Cup Final. With a commanding presence on the field, Ronaldo showcased his unparalleled talent by netting two crucial goals in the final, solidifying Al-Nassr's place in football history. This victory marks a defining moment not only for the club but also for Ronaldo's illustrious career.
The final match between Al-Nassr and their formidable opponents Al Nassr was nothing short of intense. The victory came after a lot of struggle as the game went to the extra time. Al-Nassr defeated Al-Hilal 2-1 after extra time on Saturday despite playing for more than an hour with just 10 men.
Ronaldo, often regarded as one of the greatest football players of all time, exhibited his extraordinary abilities, creating an electrifying atmosphere that captivated fans worldwide. His tactical brilliance, lightning-fast footwork, and exceptional control over the ball proved to be pivotal in the team's ultimate success.
As the tension mounted, Ronaldo seized the moment with sheer brilliance. In the critical moments of the match, he showcased his signature precision and finesse, netting two vital goals that shifted the game's momentum in Al-Nassr's favor. The first goal showcased his ability to read the field, positioning himself perfectly to receive a cross and drive the ball into the back of the net. The second goal demonstrated his unparalleled heading prowess, as he effortlessly placed the ball beyond the goalkeeper's reach.
Ronaldo's arrival at Al-Nassr has undeniably ushered in a new era for the club. His immense popularity and global fan base have brought increased attention to Al-Nassr's accomplishments. This victory not only signifies the team's first trophy after the arrival of Ronaldo but also reinforces their position as a rising force in the football world.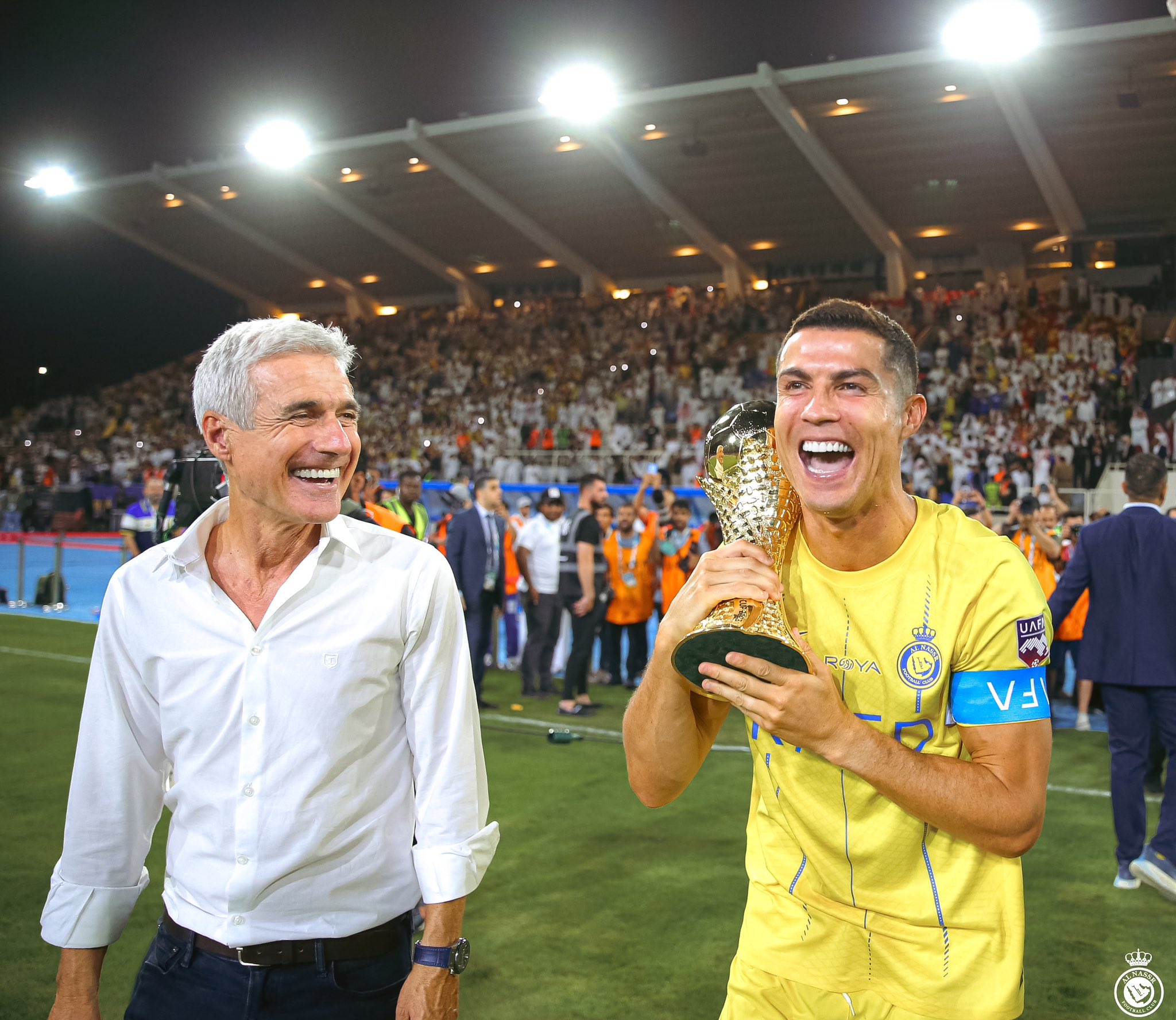 Ronaldo's presence has not only provided Al-Nassr with a world-class goal-scoring ability but has also elevated the team's overall gameplay. His strategic insights, coupled with his on-field leadership, have inspired his teammates to raise their performance levels. His experience and adaptability have contributed to refining Al-Nassr's strategies, making them a more formidable opponent on the pitch.
News of Al-Nassr's historic victory has reverberated across the globe, with fans and enthusiasts celebrating the team's achievement. Social media platforms are abuzz with congratulatory messages, highlighting the impact of this triumph on the global football community. Ronaldo's name once again trends, as supporters marvel at his ability to consistently deliver exceptional performances on the grandest stages.
With this inaugural trophy secured, Al-Nassr stands at the precipice of further success. The team's newfound momentum, coupled with Ronaldo's unwavering commitment, paints a promising picture for their future endeavors. As they set their sights on more championships and accolades, Al-Nassr's journey is poised to inspire football enthusiasts and aspiring players worldwide.
Cristiano Ronaldo's masterful display in the final match not only led Al-Nassr to their first-ever trophy but also etched his name deeper into football history. His exceptional skill, dedication, and impact on the team's gameplay have solidified his status as a legendary player. Al-Nassr's triumph will undoubtedly inspire generations to come, and this victory will forever be remembered as a defining moment in the world of football.