World Cup 2022 Qatar is all set to begin in mid November. All the participating nations will submit their respective squads before the deadline. A country is allowed to take 26 players to the tournament. For big footballing nations, it is a very difficult task to choose the 26 best players. What is even more difficult is to choose the starting lineup of the team. Uruguay is a tiny country with a population of 3 million, but they are one of the best football nations in the world.  They dominated international football in the 1930's, winning the 1924 and 1928 Olympic Gold medals. With 15 titles Uruguay is the most successful Copa América team. Argentina has 15 titles and Brazil, nine. In this article, we have given an analysis of Uruguay World Cup 2022 Squad and Uruguay Starting 11 World Cup 2022.
Uruguay will start it's campaign against South Korea.
Uruguay World Cup 2022 Squad Analysis
Uruguay are strong contenders for this year's World Cup under the management of Diego Martín Alonso. Uruguay has one of the best attacks in the tournament in the form of attacking duo Luis Suarez, Darwin Nunez and Edinson Cavani leading the line. Uruguay squad for World Cup 2022 is definitely going to be a strong and challenging one.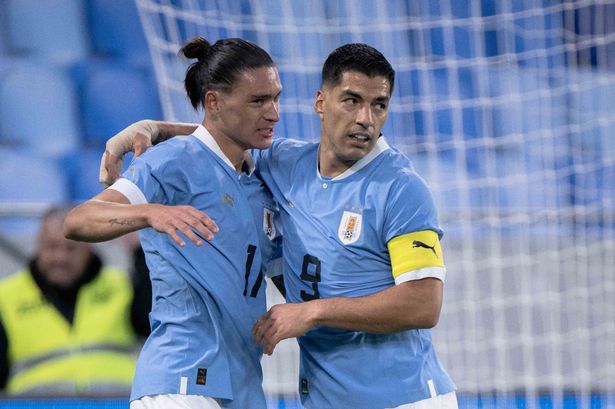 Uruguay always seem to perform better against offensive teams where they can sit back and counter, as opposed to games where Uruguay have to be the offensive side. Diego Alonso is likely to play a flat 4-4-2, which would allow Nunez and Suárez to better link up and would also limit the stress on Suarez's legs.
Uruguay has been place in Group H of World Cup 2022 with the likes of Portugal, Ghana and South Korea.
Uruguay World Cup 2022 Squad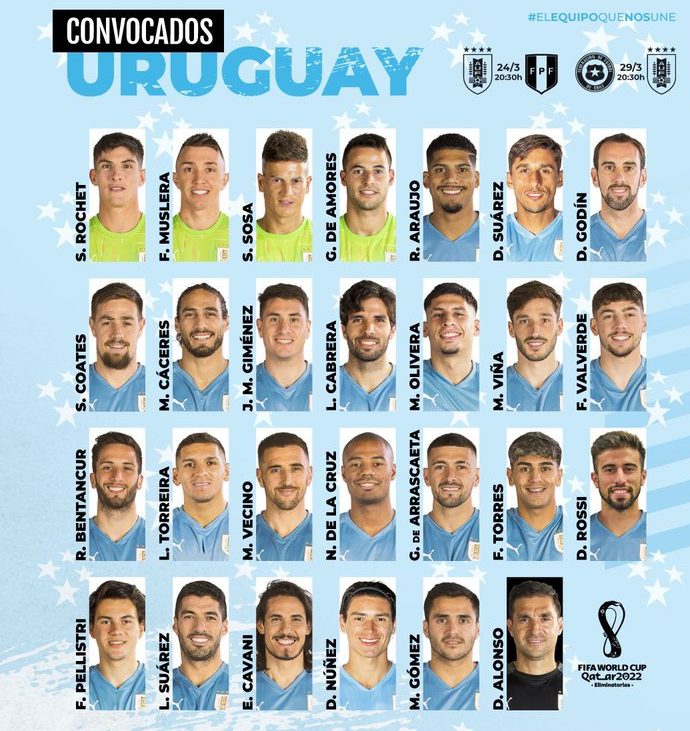 Uruguay Starting 11 World Cup 2022
Uruguay Starting 11 (4-4-2) :- Campana; Caceres, Diego Godin, Gimenez, Vina; Nandez, Fede Valverde, Rodrigo Bentacur, Lucas Torreira; Darwin Nunez, Luis Suarez.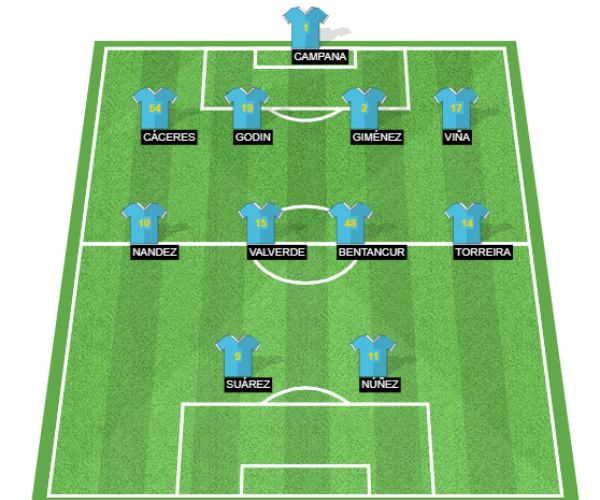 How URUGUAY could line up in FIFA World Cup 2022
Goalkeeper 
Martin Campana :  At a time, Fernando Muslera, the Galatasaray man was the first choice Goalkeeper and was backed up by Martin Campana. But after suffering injuries and being out of form Campana has taken the gloves for Uruguay. Martín Nicolás Campaña Delgado is a Uruguayan footballer who plays as a goalkeeper for Saudi Professional League club Al-Batin and the Uruguay national team. He is usually a strong presence in his box, and commands his area. He is a brilliant shot stopper. Campana will be preferred over others in Uruguay World Cup 2022 Squad.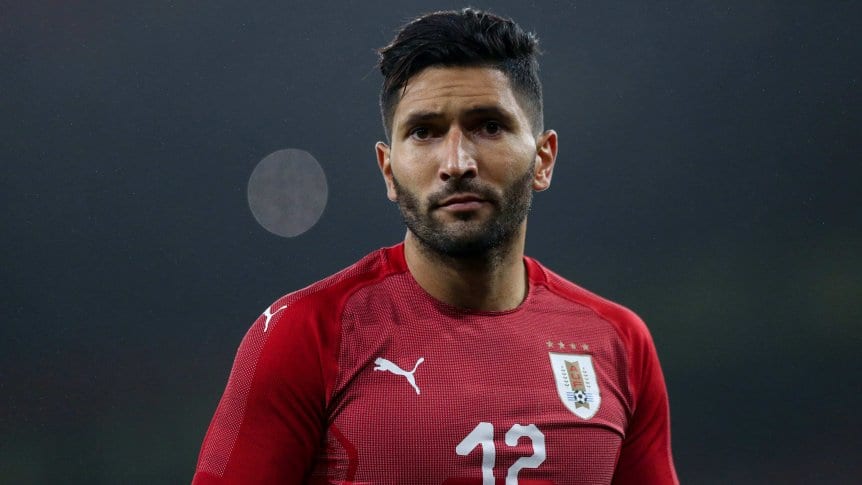 Defenders
Matías Viña : He plays as a left-back for Campeonato Brasileiro Série A club Palmeiras and the Uruguay national team. He has delivered solid performances for Uruguay's Under-23s in the qualifying stage for the Olympics. Agustín Oliveros will be another option for the position of left back. They both have been given chances in the last few matches. Let's see with whom the coach would start in Uruguay Starting 11 2022.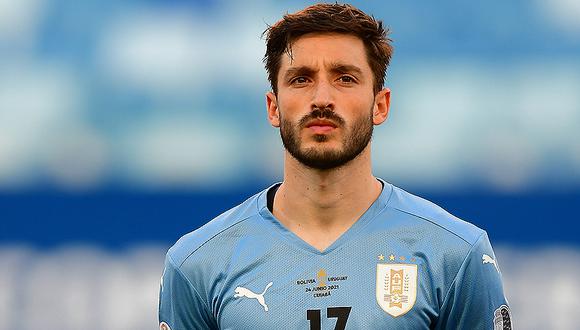 José María Giménez : Uruguay has a formidable defensive pairing of Diego Godin and Jose Maria Gimenez, both of whom used to play together at Atletico Madrid. They will form a reliable partnership to protect Campana in goal. Gimenez boasts perfect height, build and power for his position. His quickness over short areas is impressive, most centre-backs would kill for the recovery pace he possesses, and his balance is superb. He's aggressive, sometimes to a fault, but is never out of control of his own actions. Gimenez's best attribute is his aerial dominance. He very rarely loses headed duels, and he's involved in a hell of a lot of them. He has already booked his place in Uruguay Starting 11 World Cup 2022.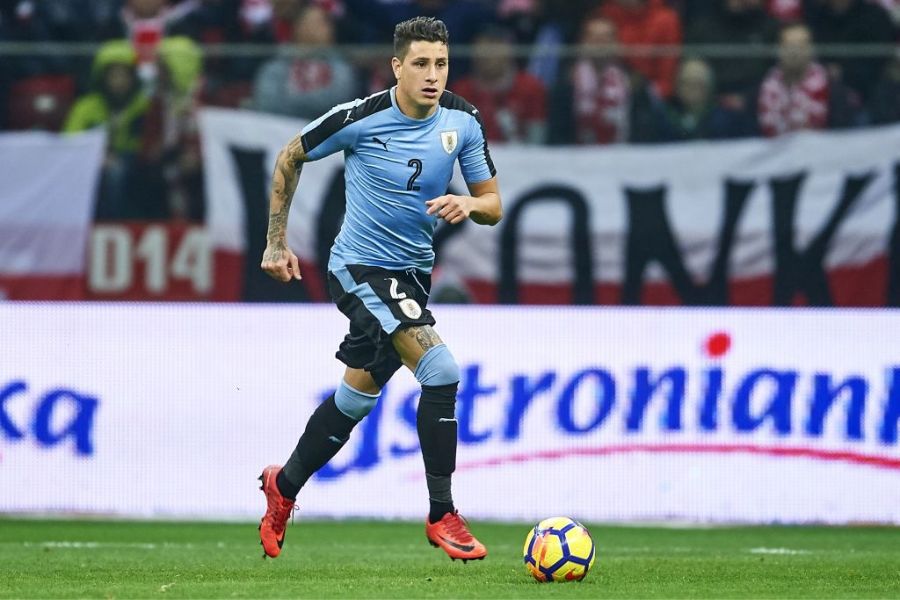 Diego Godín : Commonly referred to as one of the best defenders in the world and one of the Best Uruguayan players in football history.  Barcelona defender Ronald Araujo was assumed to occupied this position. However, the young defender picked up an injury and went for surgery which might prevent him from participating in the World Cup at Qatar. In his absence, veteran defender Godin is likely to be the backbone of defence line of Uruguay starting Lineup.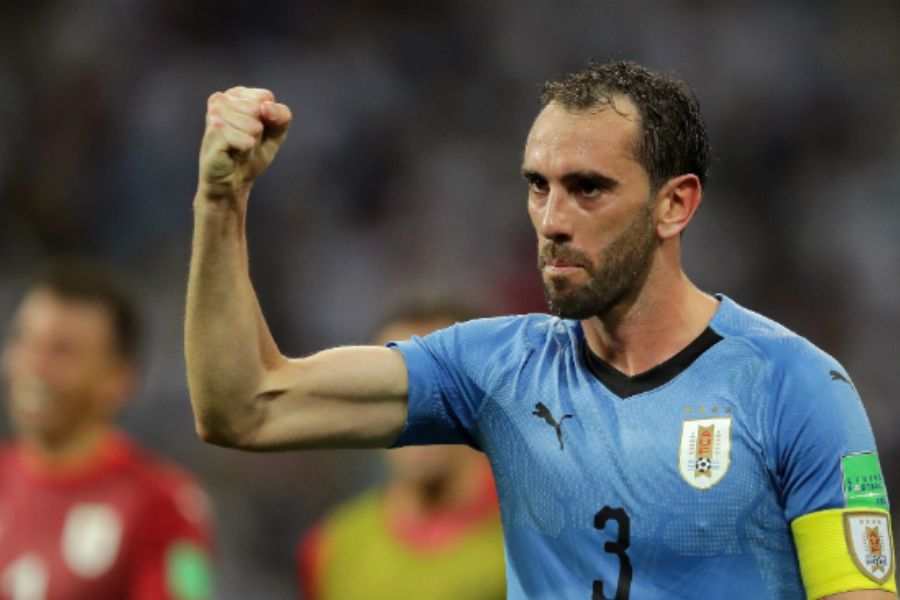 Martín Cáceres : Caceres although primarily plays as a central defender, he operates well as the right or left back as well. The player's vast experience and invariable quality make him a good addition to the squad. The Uruguayan full-back is known for his pace and hard tackling ability. Capable of playing across the back line, Caceres will have a vital role to play in Uruguay starting 11 World Cup 2022 as the team look to achieve a creditable finish at the tournament.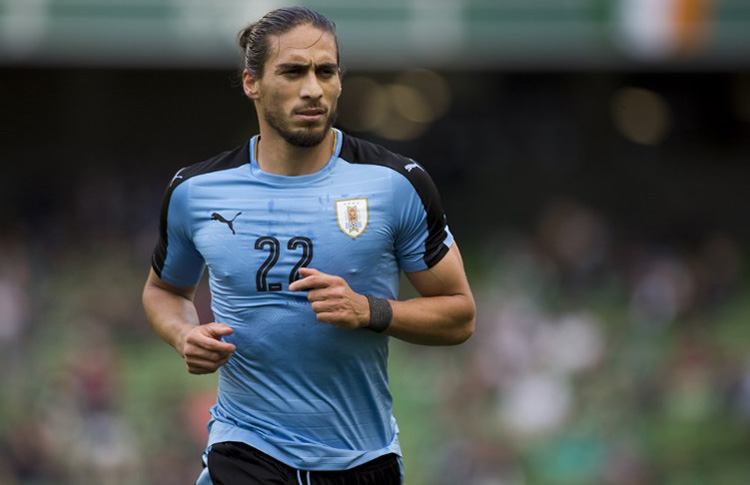 Midfielders
Rodrigo Bentancur : A central midfielder who can also play a defensive role, the Uruguayan has shown he has an eye for goal.  Bentancur and Valverde might went on to play as interior midfielders. Bentancur is already a full international for Uruguay and his place in Uruguay Starting 11 is almost confirmed. He is expected to be one of the four starters in Uruguay's midfield diamond behind star strikers.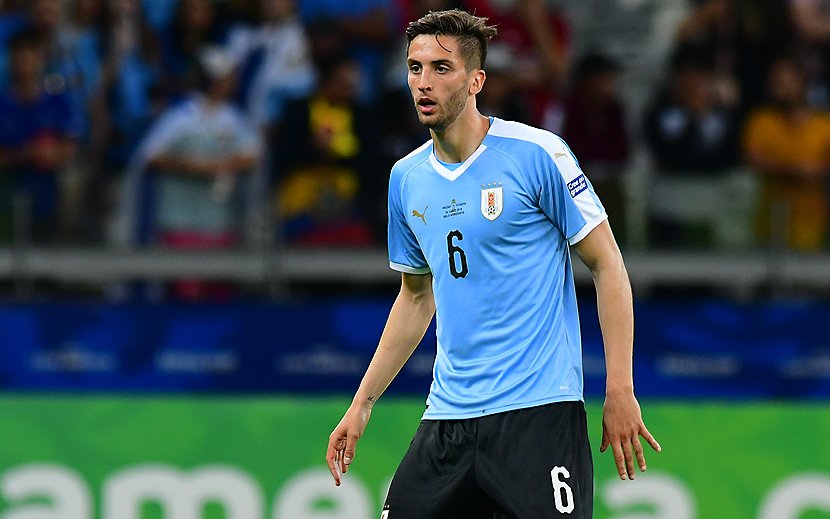 Lucas Torreira : There are doubts over his inclusion in the starting lineup of Uruguay because the 25-year-old failed to nail down a regular place in Diego Simeone's starting lineup. The Uruguayan is a multifaceted player that's got a long and successful career ahead of him. He's the one that operates as the base, positioning himself in close proximity with the centerbacks. Torreira is capable of attempting different kinds of long passes, whether it be while he's got acres of space to settle down and pick out his target or being hurried by an opposition marker. It's this kind of versatility that makes him an intriguing player. Uruguay, being a defensive team can use Torreira to his best potential. Therefore he gets a spot in Uruguay World Cup 2022 starting 11.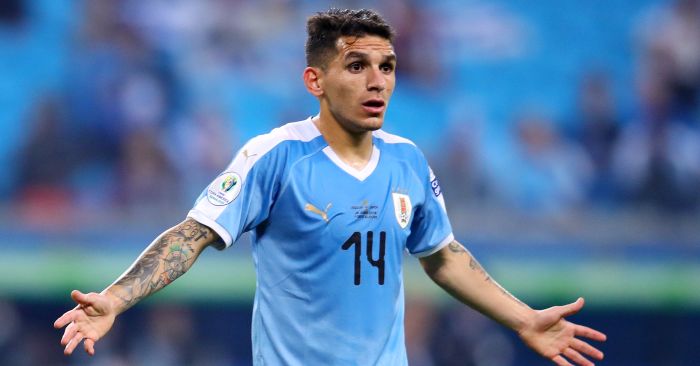 Federico Valverde : Federico Valverde has become the latest talent to emerge from the small South American country of Uruguay and establish himself on the world stage. Under Ancellotti, Valverde has become a crucial piece in the first team, playing a variety of roles from right back, defensive midfielder, right winger, and box-to-box midfielder, and consistently impressing in big games. Valverde's versatility and adaptability is his biggest strength, having slotted into various roles, offering a consistent balance between attack and defense. On the defensive side, Valverde stands out for his physique, tactical and positional intelligence, commitment, and consistency. The youngster has earned his place in Uruguay Starting 11 World Cup 2022.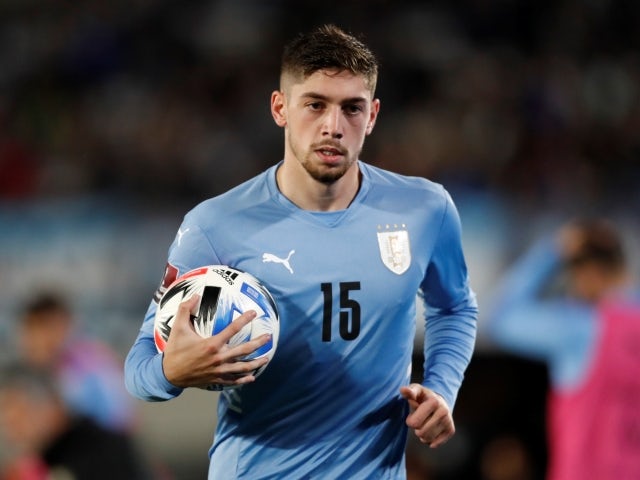 Nahitan Nández : The Boca Juniors player usually plays as a central midfielder, but is usually deployed by the manager on the right. It allows him to constantly positioned himself as a striker alongside the forwards. Nández can be added as the third striker in many moments of the game. He is a tactically intelligent midfielder next season who can play multiple roles. Nandez is is an excellent presser of the ball and would fit right in at Uruguay squad. He has been a full international for Uruguay since 2015, representing his nation at the 2018 FIFA World Cup and also in 2019 Copa America. That's why his place in Uruguay World Cup 2022 Squad is already confirmed.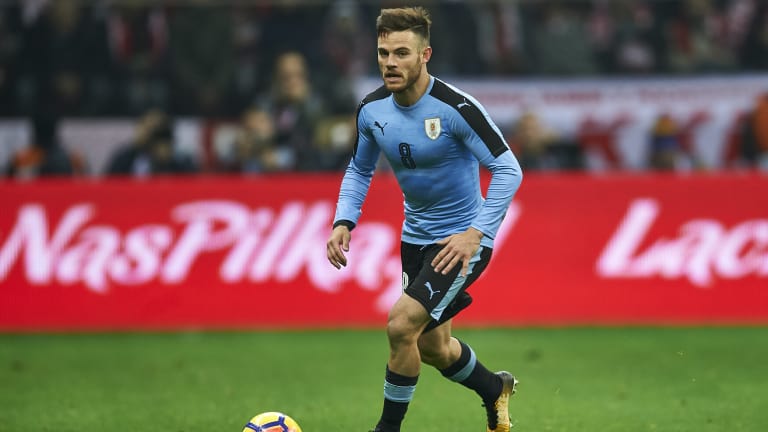 Forwards
Luis Suarez : He had been one of the standout stars of the Copa America 2019 and was in the running to be named the best player of the tournament. Suárez can hold up the play well for the second striker. The 36-year-old Uruguayan was the decisive factor in the La Liga title race, with the last 16 of his 21 league goals earning Atletico 21 points. With 20 goals in LaLiga he has proved himself Simeone most potent weapon, despite his 34 years of age. He is the most vital player of Uruguay Starting 11 in World Cup.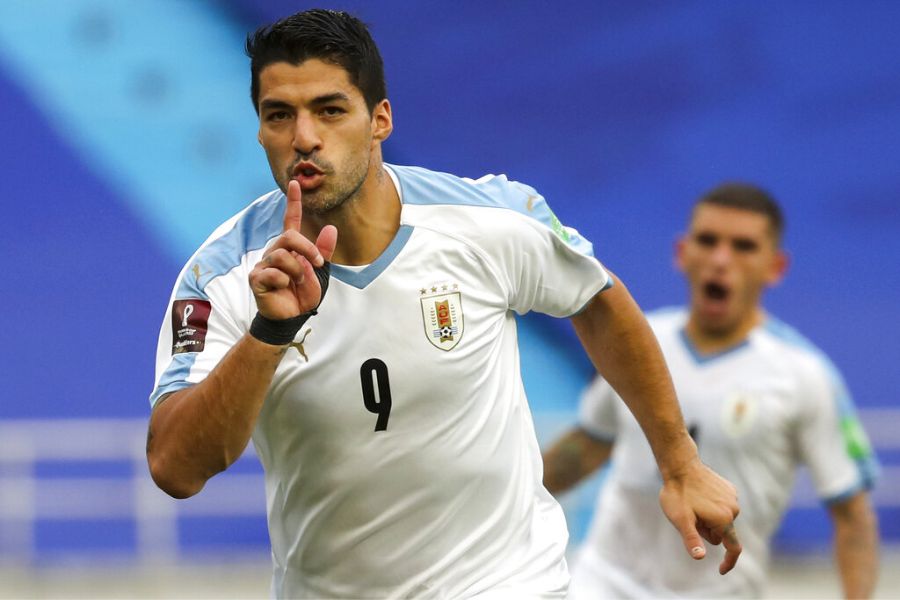 Darwin Nunez : Edinson Cavani is one of the most natural no. 9s of his generation. His movement and aerial ability made the difference for Uruguay on a number of occasions. But the time has come to pass the baton to a youngster. Nunez is the perfect player to fill in the shoes of Cavani. Darwin can also take up the role of a winger in defensive situations. He is all set to be a regular name in Uruguay Starting 11 World Cup 2022.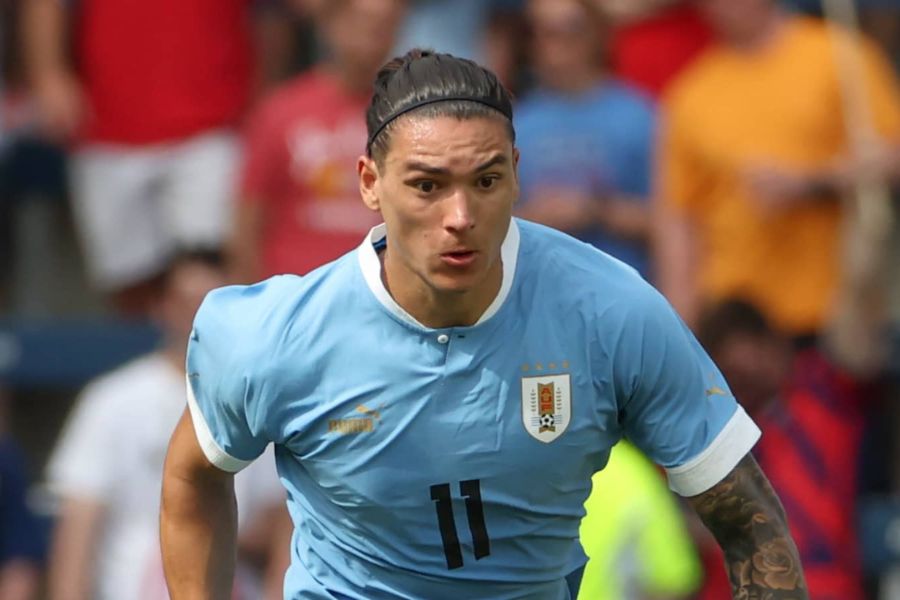 Similar articles:
Belgium Starting 11 World Cup 2022
England Starting 11 World Cup 2022
Argentina Starting 11 World 2022
Portugal Starting 11 World Cup 2022
Brazil Starting 11 World Cup 2022