If we historically talk about the top derbies in English Premier League, then Chelsea vs Tottenham might not be the first one to come to mind. However, in the recent years, this London derby has aroused as one of the fiercest in the English football. Chelsea vs Tottenham has always been a perfect mixture of long history, controversies, and fierce competition. The fans have witnessed a lot of heated moments between the players in the game between rivals. One such heated moment happened just a few days back in Chelsea vs Tottenham fixture, but this time it was between the coaches of the two teams. Let's see what happened between Thomas Tuchel and Antonio Conte.
The new season of Premier League has been started. The exciting fixture between two giants of London – Chelsea and Tottenham finished with a plenty of drama as the match ended in a 2-2 draw on Sunday. The best part of the fixture arguably came from their two managers. Both teams have to satisfied with one point.
What happened between Thomas Tuchel and Antonio Conte?
It is a traditional thing in football to shake hands with the members of opposition. Just like that, both Conte and Tuchel went to shake hands at full-time. The exchange quickly turned into a heated moment as Tuchel refused to let go of Conte's hand. Both managers turned aggressive and a number of players and backroom staff have to get involve to control the situation.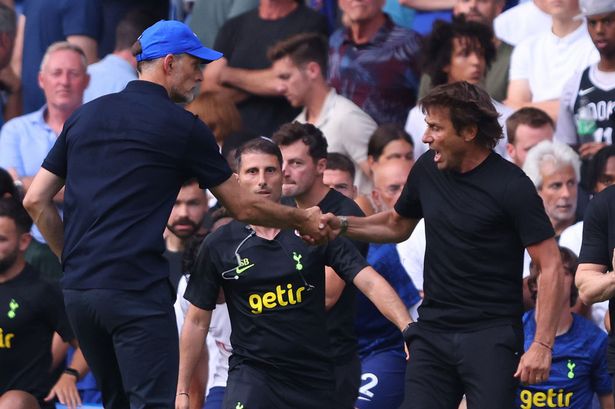 The heated clash between the two managers was already in a build up when Conte celebrated the first equaliser by Spurs in the direction of Tuchel, who came over to confront the Spurs boss. When Chelsea got the lead in the late minutes, Tuchel celebrated the goal by running down the sidelines. Conte also celebrated quite aggressively when Tottenham equalised in the final minute.
Both Chelsea's Tuchel and Tottenham's Conte were shown red cards.