On the deadline day of transfer window, France forward Antoine Griezmann made a shocking return to Atletico Madrid, just two years after leaving to join Barcelona. The transfer was announced by the clubs on Wednesday. It was yet another big and shocking transfer in this summer transfer window. After the likes of Cristiano Ronaldo, Lionel Messi, Sergio Ramos and Jadon Sancho, Griezmann is just another popular player to switch his club in this transfer window. Griezmann's exit from Barca was not expected after he had started Barcelona's first three games of the new season. As the key player of Barca, Lionel Messi had also left the club, it was not anticipated that Barcelona will lose a talented player like Griezmann. Let's see Why did Antoine Griezmann return to Atletico Madrid from Barcelona.
On his return to Atletico Madrid, Griezmann will join Luis Suarez, who was sold by Barcelona Atletico 12 months ago. Atletico are the the reigning LaLiga champions and Luis Suarez was their start player last season. Ronald Koeman's Barcelona signed Sevilla striker Luuk de Jong as Griezmann's replacement.
Griezmann signed for Atletico Madrid in 2014 from Real Sociedad. His only major trophy with Atletico was the 2018 Europa League.
Antoine Griezmann Barcelona Career
Antoine Griezmann came to Barça in the summer of 2019 from Atlético Madrid. As a Barça player the Frenchman made 102 appearances, 74 in the league, 16 in the Champions League, 9 in the Copa del Rey and 3 in the Super Cup. Of those 102 matches, Griezmann started 89. Griezmann scored 35 goals and created 16 assists for Barça winning the Copa del Rey in his two seasons with Barça. The spell of the France forward was largely underwhelming. He underperformed at Barcelona after he was purchased at such a huge price.
?❤️ ?????, @AntoGriezmann pic.twitter.com/0gZSXoKV4W

— FC Barcelona (@FCBarcelona) August 31, 2021
Why did Antoine Griezmann return to Atletico Madrid from Barcelona?
The transfer of Griezmann from Barcelona to Atletico Madrid is quite shocking. It was not assumed by any of the experts of the game. Although, in the initial period of Griezmann's stay at Barca, he was in the headlines because he was unhappy at the club. There was some news about a rift between him and Messi also. But Messi had left the club in this transfer window and Griezmann might become the main man of Barcelona after the number 10's departure. The following are reasons behind the return of Griezmann to Atletico.
Antoine Griezmann failure at Barcelona
In August 2019, the then-club president Josep Maria Bartomeu, decided to make an ignorant attempt to replace Neymar by a €120m investment in Antoine Griezmann. The fans expectations were very high for the player but he failed to live up to them.
Much was expected of the World Cup winner when Barca paid €120 million (£103m/$142m) to get him away from Atletico Madrid in the summer of 2019, but he has so far failed to live up to that price tag.
The 30-year-old has only recorded 35 goals in 102 games for the Blaugrana with just 21 of those coming in La Liga, but he did help the club secure their 31st Copa Del Rey crown in 2020-21.
Barca have failed to win the Champions League since 2015, when they were inspired by a front three of Messi, Neymar and Suarez, and failed to get past the quarter-finals in either of Griezmann's two campaigns.
Barcelona Financial crisis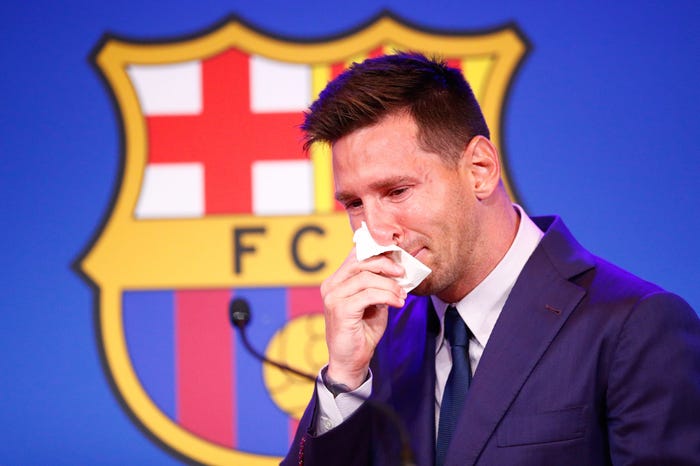 Barcelona have suffered several financial crises throughout the last five years. Mounting debts, awful mismanagement and poorly researched transfers have put the club in a bad situation. Due to these financial constraints, Barcelona lost their best player Lionel Messi.
Despite Barcelona and
Lionel Messi
reaching an agreement and their clear intention to sign a new contract, it didn't happen because of financial and structural obstacles.
Barca president Joan Laporta revealed that Barcelona's debts stand at 1.35 billion euros ($1.58 billion) and that their wage bill is at least 25 percent higher than their competitors at 617 million euros.
After the departure of Lionel Messi, Griezmann was Barcelona's highest paid player. His hefty wage was a burden for the Catalan club with their financial struggles. His wages were not justified by his performances on the pitch. Barcelona have been trying to lower their wage bill before the end of the transfer window – and it has resulted in sending Antoine Griezmann back to Atletico Madrid on loan. Barcelona will save £600,000-a-week on their wage bill after offloading Antoine Griezmann back to Atletico Madrid.
After the arrival of Ronald Koeman as head coach, Barca played in a 4-2-3-1 formation with Lionel Messi featuring as the False 9 centre-forward. It resulted in shifting Griezmann out wide right, with Ansu Fati on the opposite flank. The France star was not at all happy at being used on the flank by new head coach Ronald Koeman. Under the coach Ronald Koeman at Camp Nou, Griezmann has been asked to take up a wide role, despite being used to a more central position.