Young sensational female football superstar, Jordyn Huitema has emerged as the most exciting talent in the world of female football. The hype surrounding here reached to a great extent when she scored twice in two minutes in the game against Costa Rica. With those goals, she became the youngest ever goalscorer for her country. She was being hailed as 'The Future of Canadian Football'. Next day the headlines gave her the title of 'The Next Christine Sinclair'. The Canadian footballer is re-writing her own set of records. While playing the game, Huitema is nothing less of a poacher with great timing and extraordinary ability to ghost into the box, anticipate, and just be wherever the ball drops. At present, she is on her way to success in European club football with Paris Saint Germain. For those who don't know her or want to know more about her, here is Jordyn Huitema Biography.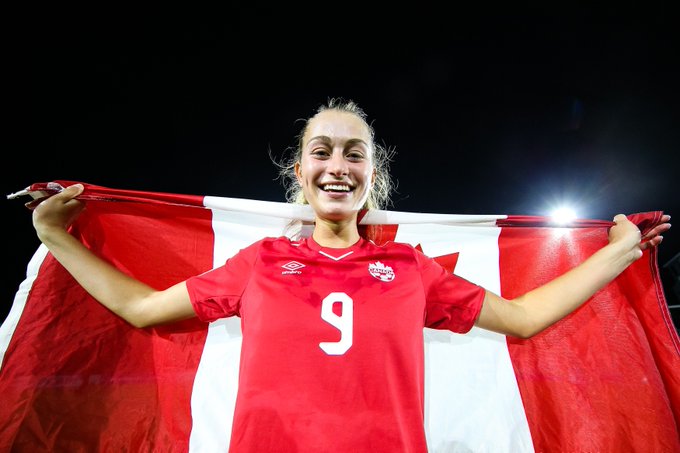 Jordyn Huitema, a Canadian soccer player, has been making waves in the world of women's soccer with her exceptional skills and determination. Born on May 8, 2001, in Chilliwack, British Columbia, Huitema has rapidly risen through the ranks and has established herself as a prominent young talent in the sport. With her impressive performances and natural ability on the field, she is destined to become one of the leading figures in women's soccer.
Jordyn Huitema has been in the spotlight with her outstanding soccer talent and better appearance, she has a large fan base in addition to getting advertising opportunities. Not only do boys like her girls also admire her, but fans often wear their idol's souvenirs to express their love. Her fans like to customize unique lapel pins to show their support and can also match their look very well.
Who is Jordyn Huitema ?
Jordyn Huitema is a professional Canadian footballer who plays from French club Paris Saint Germain. She was born on 8 May 2001 in Chilliwack, British Columbia, Canada. Her birth (zodiac) sign is Taurus. Huitema follows the Christian religion.
Jordyn Huitema: Physical Stats
Jordyn Huitema is five feet 11 inches tall and weighs around 58 kg (127.87 pounds). Her eye color is green, and the hair color is brown. She possess a slim and athletic body.
Jordyn Huitema Childhood Life
Jordyn Huitema was born to Roger Huitema and Julie Huitema. Her mother was a professional swimmer. Jordyn has two brothers namely Brody and Trent.
The journey of Jordyn Huitema's football career started in the back yard in Chilliwack, British Columbia. When she was a childe, she used to play football in the garden with her older brothers Brody and Trent. Brody used to be the goalkeeper while Jordyn and Trent smashes shots at him in goal. From there, Jordyn developed the technique and build up power.
At a small age of 4 years, Huitema started playing with local team Chilliwack FC. When she was 10, she joined a boys team because the girls' team "wasn't competitive enough
As a youth, when she was playing for Surrey in a tournament in Seattle, she earned a call-up to the Canada Under-15s squad. She was 12, when Jordyn followed her brother Brody to the Vancouver Whitecaps on the Elite REX Program. At that time, her game was growing very fast. She was becoming a natural No.9 with great feet and a physical presence. At the age of 15 years, she was called up to the senior Canadian national team. She met her childhood hero Christine Sinclair there. In 2017, Huitema becoming the first player to score for Canada's U17, U20, and the senior team in one calendar year. It was an incredible achievement for her.
Huitema's breakthrough moment of her career
Championship, where she played an instrumental role in helping Canada secure a spot in the 2019 FIFA Women's World Cup. She displayed remarkable composure, agility, and goal-scoring prowess, earning her team crucial victories throughout the tournament. Huitema's ability to consistently find the back of the net showcased her lethal striking ability, which caught the attention of soccer enthusiasts worldwide.
Club Career
In addition to her international success, Huitema has also excelled at the club level. In 2018, she signed a contract with Paris Saint-Germain (PSG) in France, joining a team that boasts some of the best players in the world. Her time at PSG has allowed her to grow as a player, learn from top-class teammates, and compete in one of the most competitive leagues in women's soccer. Huitema's performances have been integral to PSG's success, and she has proven herself to be a vital asset to the team.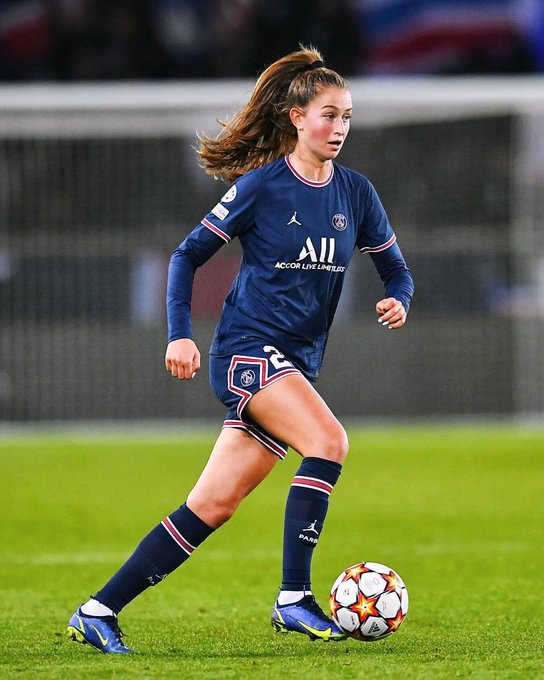 Playing Style and Strengths
Jordyn Huitema possesses several attributes that set her apart on the field. Standing at an impressive height of 6 feet 1 inch (185 cm), she has a significant physical advantage over many opponents. Her aerial presence makes her a threat during set pieces, as she can outjump defenders and score crucial goals with her head. Moreover, her speed, agility, and technical skills allow her to navigate past defenders and create scoring opportunities for herself and her teammates. Huitema's ability to make intelligent runs and her clinical finishing make her a formidable forward.
At just 21 years old, Jordyn Huitema's future in women's soccer looks exceptionally bright. Her talent, determination, and hunger for success have propelled her to great heights at a young age. As she continues to refine her skills and gain experience, it is expected that she will become an even more influential player in the world of women's soccer. Her dedication to her craft, coupled with her natural ability, suggests that she will play a crucial role in the success of the Canadian national team and continue to shine at the club level.
Jordyn Huitema Net worth
Jordyn Huitema's PSG salary is about $30000 per month. She made a 4-year contract with the club.
Jordyn Huitema's net worth is about $45 million through different endorsements and advertisements.
Are Alphonso and Jordyn still together?
No, Alphonso and Jordyn have broke up. The two youngsters started dating when they were teenagers at Vancouver Whitecaps five years ago. However, they have recently announced their separation.
How did Alphonso Davies and Jordyn Huitema meet?
Jordyn Huitema and Alphonso Davies met in 2017 at Vancouver Whitecaps.
See the full story here :
Who is the girlfriend of Alphonso Davies? Jordyn Huitema
Jordyn Huitema has emerged as a rising star in women's soccer, captivating fans with her exceptional talent and impressive performances. Her contributions on the international stage and at the club level have solidified her status as one of the most promising young players in the sport. As she continues to develop and make her mark, Huitema's journey in women's soccer promises to be an exhilarating one, inspiring a new generation of athletes and fans alike.